In the middle of the Great Depression, local church choirs and music clubs came together to perform Handel's Messiah. The "Hallelujah Chorus" rang out in the midst of hopelessness. During World War II, the Marion Civic Chorus formed to present Handel's Messiah annually. The tradition has continued for generations.
Family and Community Tradition for 80 Years 
Messiah has been performed each year except for 2020 due to the COVID-19 pandemic. For singers and attendees, it has become treasured event. Brian Lovell, president of the board of the Marion Civic Chorus, takes pride in 80-year community effort. He is following in the footsteps of his father, Lynn Lovell.

"My father sang in Messiah during his senior year at Harding High School in 1960," Brian said.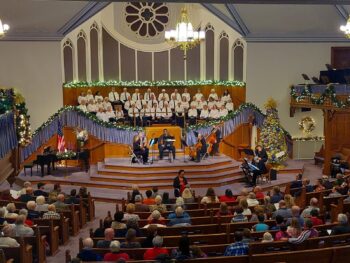 Lynn Lovell went to The Ohio State University where he performed with the marching band. He became an area music teacher and band director. Brian Lovell loves to sing, but he followed a different career path. Brian served as a deputy sheriff for Marion County for 37 years and now serves as a resource officer for the Buckeye Community School in Marion. Whether professional or amateur musicians, the only requirement for participants is a passion for the performance.

"I love to sing Messiah. There are chorus members who've returned to sing Messiah for decades. I love that we are singing scripture. We are celebrating the birth of Jesus Christ in a timeless, solemn way," Brian Lovell said. "This is the beginning of the Advent season. We find it a fitting way to usher in the season of Christ's birth. We would like people to take time from their busy, hectic schedules, and remember why we celebrate Christmas."
Dozens Perform the Piece 
The chorus ranges in size from 48 to 204 members. Rehearsals and performances are held at Epworth United Methodist Church at 249 East Center Street, Marion. The public attended the performance on Nov. 26 at 7 p.m., which was dedicated to Ednita Vaflor.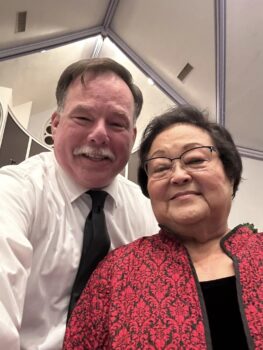 "Ednita Vaflor served as our board president from about 1997 to 2022. She and her husband, Gabe, have been involved with the Civic Chorus and Messiah since 1970," Lovell said. "They both have served the Chorus with dedication and passion for all those years. They held other various officer positions and were both soloists. We love them dearly and are blessed that they are still part of the Chorus family."
Local Leadership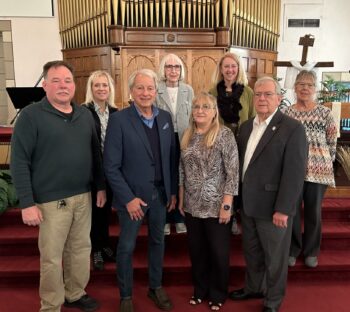 Lovell credits the board members, their leadership and teamwork for the success of the Chorus. Current board members include Gary Crabtree, Twila Laing, David Mansperger, Lynette Burris, Marshall Cunningham, Sandra Becker, Lorelei Heineman and Glenna Celestino. Burris and Becker are retired musical teachers. The director is Ivan Leavitt.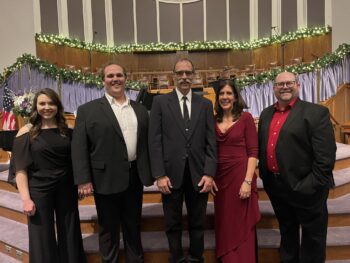 Lovell also credits the depth of local talent. Marion native Dylan Davis was a soloist in 2019, 2021 and 2022. He is a professional singer who has performed with the Metropolitan Opera Chorus. The chorus always welcomes new members.
New Musicians Wanted 
"We want to add new voices to our ranks – new energy and passion. The board is taking measures to ensure the performance continues each year past our individual lifetimes and well into the future," Lovell said. "We would love for anyone to join who has a basic understanding of music – anyone who has experience in singing Messiah and who would like to dedicate some practice and performance time in singing one of the greatest works written, celebrating Christ."

One past performer finds this free concert a wonderful value.

"People in and around Marion County have no idea what a gift this is to the community," said Pamela Hitz.
Proud to be MarionMade!  
"We take most pride in the dedication and professionalism of our performance," Lovell said. "We are proud to be MarionMade! because it is a home-grown organization that is moving Marion into the future. It does a great job of showcasing local happenings and talent. It is very important to support local groups, businesses and talent because it is the life of a community."
For more info: 
To volunteer, join the Marion Civic Chorus Facebook group or reach out to any board member.
Find More MarionMade! Musicians and Performaning Groups here: 
Jen Bender Performs on Broadway
Many Groups Make Music in Marion 
Marion Palace Theatre Lights Up Downtown for 95 Years
Music Academy Wins First Place in the Alluvial Private Wealth Forge Competition
Organist Allan Lust Polishes the Keys for 63 Years
DiverseMoves Brings Faith, Hip-Hop and Dance to Local Students
MarionMade! Musicians, Artists and Entertainers Perform at 2017 Gala
2018 Entertainers Return from the Grand Ole Opry and Broadway
2019 Gala Entertainment Features Broadway Star
Kristi Wink and Palace Productions
Martha Douce Leaves a Dance Legacy
Elsie Janis: America's Sweetheart
Miss America Marilyn Meseke tap-danced to a crown
MarionMade! is a program of Marion Technical College.