Dreamers with ideas and a business plan competed for thousands of dollars in prizes at the Alluvial Private Wealth Forge Competition on Oct. 12. At the end of the night, each business received between $1,000 and $2,500 in prize money to start or grow their businesses, thanks to three generous local sponsors: Alluvial Private Wealth, Showcase Rentals and Johnston Supply.
The Competitors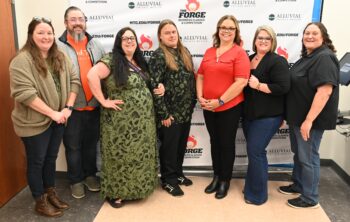 The competitors included:
Crystal and Justin Bessler with Birch Tree Bookery
Erina Frank and James Fitchpatrick with Gloomy Erina handmade artistic plushies and jewelry
Sharon Johnson with the Friends of Caledonia nonprofit, which has grown community events in Caledonia every year
Steve Stiles with Memory Lane Weddings and Event Rentals;
Elaine Strine with C.L. Gregory Nonprofit Music Academy
Angie Thompson with the 1951 Initiative for holistic recovery for people with substance use disorders, in memory of her father and friends who have struggled with addiction
Judges and Scoring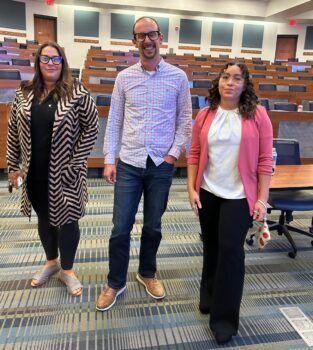 The judges were Ana Malone-Griffith, owner of Busy B Cleaning and a past Forge finalist; Andrea Mullins, owner of Shovel City Drinkery; and Luke Henry, owner of ProScape Lawn and Landscape Services and Downtown Reimagined, among other businesses. Each competitor was scored on innovation, originality, value creation, feasibility and community impact.
First Place: Elaine Strine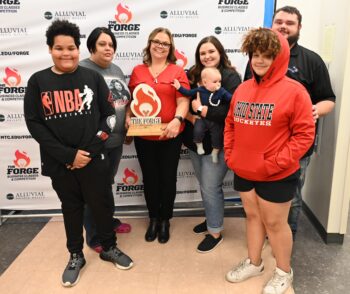 In a close competition, Strine was awarded the top prize of $2,500 for her vision to provide music to all interested local residents through her nonprofit C.L. Gregory Music Academy, named in memory of her father.
"It was an honor to be a part of the Forge," Strine said. "Winning was about more than just the money. The knowledge I have gained and the connections I have made are invaluable! I will be forever grateful for this program."
Second Place: Crystal and Justin Bessler, the Birch Tree Bookery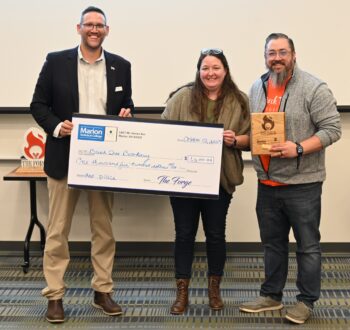 Crystal and Justin Bessler with Birch Tree Bookery won $1,500 for finishing second in their efforts to help Marion unplug and enjoy reading as well as hosting book clubs and author events. Henry emphasized the importance of life-long learning.
"In five years, you will be the same person as you are today except for people you meet and the books you read," Henry said.
Third Place: Angie Thompson, the 1951 Initiative
Thompson with the 1951 Initiative came in third. She is working to offer yoga, meditation, and other supports to those struggling with addiction. Thompson is seeking grant money and hopes to open a barndominium retreat with in-patient and out-patient services.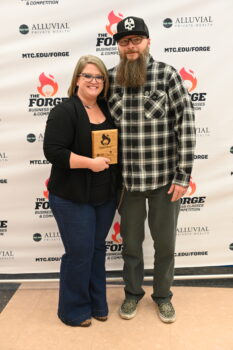 Fourth Place: Erina Frank and James Fitchpatrick, Gloomy Erina
This artist makes unique plushies. They have been selling them on Etsy and at in-person events such as the Marion Popcorn Festival and the Circleville Pumpkin Show. They are also looking to expand into T-shirts, digital designs, jewelry and other merchandise.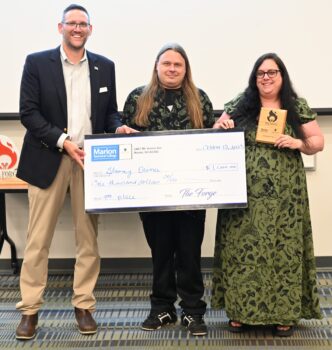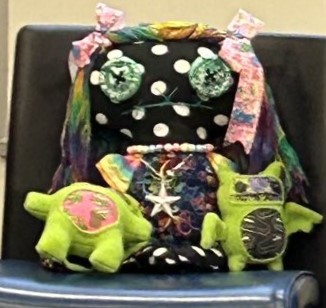 Fifth Place: Sharon Johnson, Friends of Caledonia
The mayor of Caledonia and other residents came to support Johnson. The village of less than 600 people had 500 attend an Easter event. They are also planning Christmas events, food truck visits, and concerts.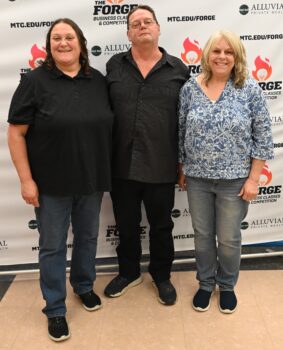 Sixth Place: Steve Stiles, Memory Lane Weddings and Event Rentals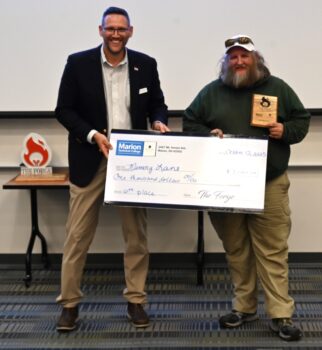 Stiles with Memory Lane Weddings and Events came in sixth. He is working on a plan to offer tables, chairs, and linens for weddings and other special events.
Each business placing third through sixth received a $1,000 prize.
Additional Prizes
All contestants also received a free one-year membership to the Marion Area Chamber of Commerce. Joel Thorpe with Emerald Custom Woodcraft donated the custom trophy and plaques for the winners. A Taste of Memphis catered the event at no charge.
Free Business Classes Before the Competition
The contest was preceded by seven weeks of free classes at Marion Technical College on topics including writing business plans, marketing and finding funding. Fourteen local entrepreneurs took advantage of the free classes. Lars Olson, a founder of the Forge and Alluvial Private Wealth, said the first class challenged these entrepreneurs to find their "why" – the personal desire behind each one of these businesses. This was evident from the presentations.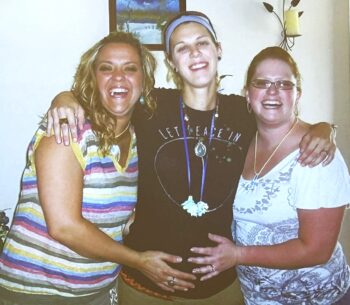 "I love your passion!" Malone-Griffith said to Johnson after hearing her present about the growth and buzz in Caledonia with farmers' markets, Christmas and Easter events in the memory of a beloved friend.
Other members of the Forge 2023 class include:
Christie Bending; Kimberly Bryant, founder of Kitty Kat Candles; Eli Bush with Alluvial Private Wealth; Danielle Daniels; Megan Dawson, owner of the Wine Down; Amy Holsinger and Michaila Storch.
Past Forge Participants and Winners
Since 2017, many MarionMade! businesses and nonprofits have participated in the Forge's no-cost classes and business plan competition. They include:
Ability Vending
Attaboys
Harding Harbor Seafood
Leading Ladies (now the Legacy Mentoring Group)
Painless Fleet Maintenance
Presidential Cleaning Services
The Sweada Mae Art Café.
These businesses have created dozens of new, local jobs.
Forge: Founded by Leadership Marion
The 2017 Leadership Marion class of the Marion Area Chamber of Commerce founded the Forge after a study that showed Marion needed more small businesses. Marion Technical College hosts the classes each year.
Learn about last year's winners here. Find more information including all winners here.
MarionMade! is a program of Marion Technical College.