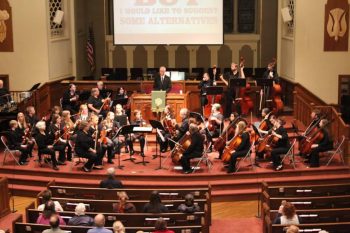 Music has a long history in Marion–from the drum and bugle corps days of the Marion Cadets to school bands and show choirs to performers on the Palace stage and beyond. Most recently, the Harding High School band was welcomed home with much fanfare after coming in first place to perform at this year's Outback Bowl.
Several talented musical groups have become perennial local favorites.
The Marion Area Orchestra (MAO) is an amateur string orchestra founded to provide a musical performance outlet for violinists, violists, cellists and bassists in the Marion area.  Some of the volunteers are local school orchestra members and home schooled young people, but mostly adults numbering 43 musicians.
MAO was a "pipe dream" of George Schram's for about 30 years.  He played trombone in the Marion Concert Band for more than 50 years and enjoyed the musical outlet.  But, having taught string orchestra in the River Valley and Marion City schools, it bothered him that former students who played stringed instruments had no ensemble in which to perform.  This gave birth to MAO, and though it is a string instrument group now, some day it may add winds and percussion and evolve into a symphony orchestra.
MAO had its first rehearsal in 2016 at River Valley High School and now rehearses regularly at Grant Middle School. The group's intent is to present a couple of performance a year in the community.  Past performances include a veterans' tribute at Marion First Presbyterian Church and a volunteer recognition for Marion General Hospital at the Palace Theatre.  Their spring performance featured the Marion Music Club Chorale and local flutist Beth Cumbie at River Valley High School.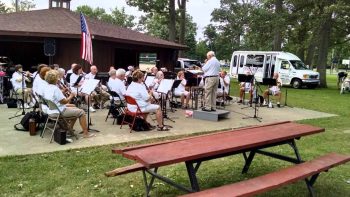 The Marion Concert Band, most known for their annual Summer Concerts in McKinley Park series held each year, June through August, continues to draw large crowds. The group's mission and purpose is to provide live and free music to the Marion community and they regularly perform at the River Valley auditorium, Marion Senior Citizens Center, and other places as requested.
Marion Concert Band's members range from 15 to almost 80 years of age and volunteer their talents for rehearsals and concerts.
"We first use the talents of local musicians to provide these concerts, plus a couple of popular–and requested–groups from Cleveland and Columbus," said director William Swihart of the 14-concert summer series. "Attendance can range from about 50 to 400 people depending on the concert."
The Marion Concert Band itself performs seven concerts a year.
"We have provided concerts to the community of Marion since the early 1960's and will continue to do so for many years to come," said Swihart.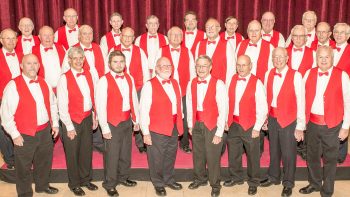 For almost 40 years, Marion has also enjoyed that uniquely American music, Barbershop, as the home of the Marionaires Barbershop Chorus. According to one of its founding members, Duane Kline, the Marionaires has always been a group that welcomes anyone with the desire to sing. In fact, he says, the great thing about a barbershop chorus is that you do not have to be a great singer to join the group. The many voices and four-part harmony allows for a variety of talent and skill levels.
In its early years, the chorus numbered less than 20, but today averages 30-35 members. The Marionaires is not a competition chorus, they simply perform to share their music.
The group's annual concert at the Marion Palace Theatre regularly attracts large crowds and is the major fundraiser for the chorus. While the late April concert is the highlight of each year for the group, the chorus and the several quartets out of the chorus perform throughout Marion County and beyond. By far, the busiest day for the quartets is Valentine's Day–as many as 30 singing Valentines are delivered on February 14 each year.
"The health and vitality of the performing arts in any community are a result of local people with a passion to perform and a genuine love of their craft," said Kline. "Much like the robust local theatre scene in Marion, the presence of the Marionaires Barbershop Chorus provides an ongoing inspiration and training ground for aspiring performers."
Similarly, what started as nine guys just singing acapella music to see if they could do it, has led to 5+ years of fun and ministry for the acapella group NINE–No Instruments Needed Ever.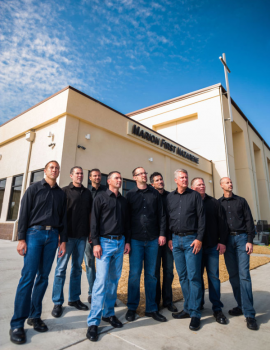 Formed out of the choir at Marion First Church of the Nazarene, NINE is comprised of an eclectic group of engineers, teachers, preachers, and business leaders. The lineup includes Titus Ritchey, Matt Craycraft, Scott Forry, Joe Blue, Luke Henry, Scott Ruth, Steve DeWeber, Wes Peters, and Matt Holsinger; behind the scenes is the tenth member, sound man Bill Mankey.
Busy with full-time jobs and juggling professional and family schedules often proves to be a challenge for the men, but NINE stays true to their roots and their mission to honor God through music.
The group shares, "We believe God gave us our different talents and brought us together, so we try to use our gifts to glorify him."
"We started off by doing a few things in church over the first year. Christmas at the Palace 2011 is what gave us our name," said founder Scott Ruth. "We had to pick a name to be listed in the program, we chose NINE."
The guys owe much of their success and existence to Clare Cooke and the Palace Theater, which provided confidence and a springboard to other opportunities, including 'To Clare with Love' and NINE's standalone shows on the Palace stage. Since their start, NINE has sang everywhere from churches, nursing homes, and revivals, to corporate parties, birthday parties, even the National Anthem at a Cincinnati Reds game.
#MarionMade #WeAreEntertaining #WeAreTalented