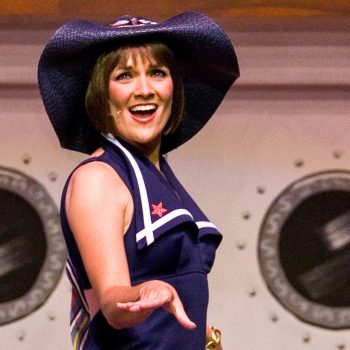 KRISTI WINK
Truly, MarionMade! describes Kristi Wink's life! She was born and raised here, attended Marion City Schools, and graduated from Harding High School and The Ohio State University. She's actively involved in Palace Theatre productions, as well musical productions at Harding High School and Grant Middle School. And, Kristi currently enjoys the responsibilities of being activities coordinator for the Marion Senior Center. After living in New York and Cleveland, she and her husband, Joe (also a Marionite), returned to Marion to raise their children where they were raised. They have loved every minute of living and growing in this wonderful community with their three children–Sadie, 20, Tanner, 16, and Brady 13.
"I have been fortunate to be actively involved in musical productions at the Palace Theatre for the past 35 years as a performer, choreographer, assistant director and director. Some of those shows have included Christmas at the Palace, Crazy for You, Mary Poppins, Hairspray, Oliver!, The Will Rogers Follies, Oklahoma!, and Annie. These productions have made a great impact on Marion's cultural scene, while also being profitable for the theatre," says Kristi. "What's more, in 2013, the PCAA board and Palace Executive Director, Bev Ford, agreed to add a Junior Musical to the theatre's programming. My production team and I were able to bring to life The Little Mermaid, Peter Pan, Aladdin, and Tarzan. These productions have created a new learning environment for youth of all ages. While working as choreographer for Jami Rawlins' HHS productions and Ann Schertzer's Grant Middle School productions, we are able to expand that cultural scene to youth in the Marion City Schools," adds Kristi.
Kristi's endeavors were greatly supported by this community when she represented the state as Miss Ohio in the 1991 Miss America Pageant in Atlantic City, NJ, and, after that, when she appeared on Broadway in the Tony Award winning musical, The Will Rogers Follies. Since then, for many years, the community has supported Palace productions by attending the shows and bringing their children to be a part of them. The same is true with the various school productions.
That support propels us to continue with our strong support of the Arts. Our Palace productions have had a positive impact, not only on Marion performers, but also on performers from surrounding counties, Columbus, Cleveland, Westerville, and Delaware; most recently, for To Clare With Love, former cast members returned from New York City, Indiana, and Florida. We are very proud to say we have raised "theatre kids" who now work in the business in New York City, Chicago, California, Florida and many foreign countries. They are stage performers, cruise ship performers and directors, theatre managers, producers, associate producers and musical directors.
Kristi says, "Marion has always been blessed with amazing talent and I'm very proud to be a part of all of it."
#MarionMade #WeArePerformers