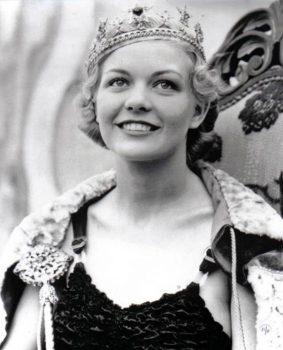 With a dazzling smile and a talent for tap dancing, Marion native Marilyn Meseke won the Miss America pageant in 1938. Marion is still the only town to have both a Miss America and a U.S. president.

Marilyn's Beginnings
Meseke was born Mary Ellen Spurrier on October 7, 1916 in Lima, Ohio. Charlie and Clara Meseke, her maternal grandparents, adopted the infant and renamed her Marilyn Meseke. They lived on South Prospect Street. Neighbor Evelyn Long described Clara as very strict and disciplined, which Long said contributed to Marilyn's later success.

Marilyn started tap dance lessons at age 4. She had a natural talent. She also learned to sing, play piano, and twirl batons. The 1933 Harding High School yearbook lists Meseke as a member of the National Honor Society. After high school, the enterprising woman opened a dance studio in her family's living room. Many Marionites still remember taking lessons from her.

"She was my two older sisters' tap-dancing teacher. They said she was as nice as she was pretty," remembered Carolyn Barnhard on the "Growing up in Marion" Facebook group.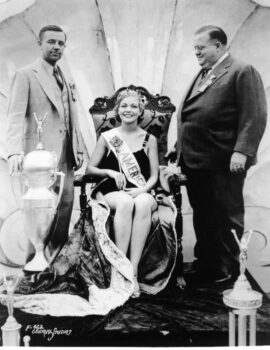 Marilyn's Pageant Victories
Meseke's beauty, drive and talent made her a successful pageant queen. She won Miss Ohio twice. Her first win was in 1931 at just 14 years old. Due to her age, she was not allowed to compete in the Miss America contest. Meseke was undeterred.

Meseke won Miss Ohio again in 1938. This time, she went to Atlantic City for the Miss America pageant. This was the first year the talent competition was mandatory. The dance teacher shone. Friends in Marion listened to her win the Miss America crown live on national radio. More than 112 million moviegoers eagerly watched the newsreel footage a week later.

When Meseke came home victorious, 30,000 people welcomed her with a nighttime parade on September 29, 1938. Meseke represented her hometown at appearances around the nation. She then started a modeling career, according to the Marion Historical Society.
After Miss America
Meseke didn't let the fame go to her head. She has been described as humble, gentle, kind, giving and charitable. She was active in the Miss America program for many years, including organizing the pageant's 75th anniversary ceremonies in 1995.

Meseke married Stanley Hume in 1944. They moved to Florida, though she still stayed in touch with her friends from her hometown. The couple had one son, Michael. After Stanley died, the widow later married pilot Ben Rogers. Marilyn Hume-Rogers continued to teach piano. She died on Sept. 12, 2001 at age 84.

"She was really an elegant lady and just as beautiful the day she died. She was….just as beautiful inside as she was outside. She brought a lot of notice and fame to Marion, Ohio," longtime friend Phyllis Bell Smith told The Marion Star after her death.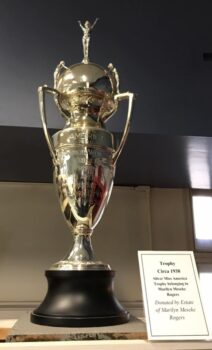 Meseke donated her trophy and other memorabilia to the Marion County Historical Society. The museum, located at 169 East Church Street, is open for tours from Wednesday through Sunday from 1 p.m. to 4 p.m. Admission is $6 for adults; $5 for seniors; $3 for students from kindergarten through college; and free for children under age 5. More museum details can be found at marionhistory.com or on the museum's Facebook page.