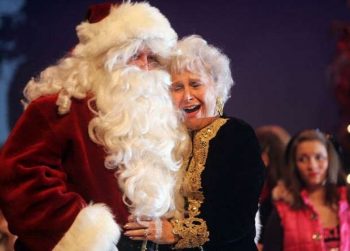 CHRISTMAS AT THE PALACE
The historic Marion Palace Theatre has been making memories for nearly 90 years, and none are more special than those created by the annual holiday production "Christmas at the Palace." Written and directed by Clare Cooke, Christmas at the Palace is a joyful celebration featuring the talent of hundreds of MarionMade! individuals who share the warmth and wonder of the holidays in song and dance, instrumental solos and group numbers, heart-felt vignettes, silly sketches, and more.
Theatre Director Bev Ford says that, "Christmas at the Palace is an opportunity for our community to gather around a common celebration, to focus on what's important and meaningful during the holiday season. It puts the spotlight on people and I love that. The annual production weaves the talent of our friends, families, and co-workers around a theme and keeps the message of Christmas central in our thoughts, while offering opportunities to for memory making with those we love."
The holiday revue includes the talents of long-time stage veterans who are well known in the community as well as many fresh faces and new acts. More than 250 performers will take the stage including the a capella group NINE, the musically talented Lisiecki Family, The Drama Mamas, the adult and children's choirs conducted by Vocal Director Steve deWeber, dance students from Martha Douce Dance Studio and Diverse Dance Moves, the Men's and Ladies' adult tap lines choreographed by Kristi Wink, an uplifting Military and First Responders Recognition, a touching Nativity Scene, and many more entertaining acts and surprises.
Adding to the celebration will be a trio of comical friends from the North Pole — Santa Claus (Bruce Cudd), Mrs. Claus (Sharon Gale) and Sassy the Elf (Julia Vanderhoff) while maestro Rick Baird and the "Winter Wonderland" Orchestra fill the theatre auditorium with the sounds of the season.
Along with the recently revived Downtown Christmas Parade and annual Peanut Push, Christmas at the Palace makes the first weekend of December a truly magical time in Marion.
#MarionMade #WeAreTradition #WeAreChristmasAtThePalace