For about a decade, dozens of volunteers come to Waldo on the first Friday morning of each month to help local people in need fill up a trunk with free, fresh produce from the Mid-Ohio Food Collective.

"Every month, we get between 8,000 and 12,000 pounds of produce," said volunteer Jim Wellhausen of Cardington.

While tons of tomatoes, lettuce, cabbage, onions and other fresh produce seem massive, the need has never been greater. People line up several hours before it opens.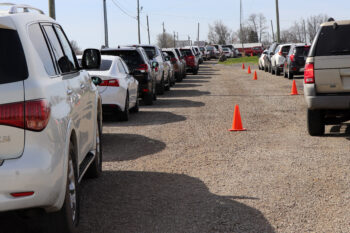 "I've never seen how many cars as we did last month. We had 310 cars last month. I've never seen it like that. None of us had," Wellhausen said. "We really help the community out. There are people who borrow cars to come in there. We see people who are in dire straits."
Last month, volunteers served 266 families. Unfortunately, the produce ran out and they had to turn about 50 cars away.
"That's what kind of breaks our hearts," Wellhausen said.
The seniors, parents and children who do receive groceries are appreciative.
"They are all so thankful. It puts a smile on my face," Wellhausen said.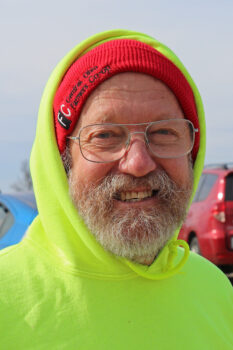 The food is available to everyone living at 200% of the federal poverty level or less.
"Anyone in need is welcome to come," said volunteer Jackie Price. "It's not just for Waldo – it's for everybody."
Price, a retired nurse from Waldo, manages registration. Originally, St. Paul's Lutheran in Waldo hosted the giveaway.
Pandemic Spurs Changes
With the COVID-19 pandemic and the increased demand, they changed it to a drive-through. Hal Clase, the owner of All-Occasions Catering, volunteers his facility every month for free.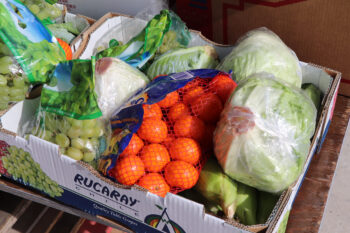 "Hal has been terrific. He really bent over backwards to help us. He doesn't charge us anything," Wellhausen said. "There would be no way we could get that many cars into the small church parking lot."
Now, families stay in their cars to register and wait for volunteers to put the boxes of produce in their trunks. The volunteers form a well-oiled machine.
"I've got the best volunteers anyone could ask for," Wellhausen said. "We have a good crew. Almost all of us are retirees. We know how to work! I'm truly blessed with the volunteers that I have. They have good hearts."
These faithful seniors do need more hands.
"We really need more volunteers, especially those who are computer literate. In the winter, many volunteers go to Florida. In the summer, some of our regular volunteers go on vacation. One time, three or four of us had to have surgery," Wellhausen said.
The time invested in helping others has its own rewards.
"You go away tired, but you go away with a smile," Wellhausen said.
"I like the volunteering and just helping the community," Price said.
Where to Find Help
The Fresh Food Distribution is held on the first Friday of each month from 9 a.m. to 11 a.m. at All Occasions Catering, 6989 Waldo-Delaware Road in Waldo. The next one will be held on Friday, May 5, 2023.
It is a cooperative effort from many local churches including St. Paul's Lutheran Church in Waldo, Peace Community United Church of Christ, Emanuel Lutheran Church in Marion, Trinity Lutheran in Marion, St. Paul's Lutheran in Marion and others in partnership with Lutheran Social Services and the Mid-Ohio Food Collaborative.
Donations Welcome
For more information or to make a donation, contact St. Paul's Lutheran Church by mail at PO Box 162, Waldo, Ohio 43356; call (740) 726-2770; or email stpwaldo@gmail.com. More information can also be found at St. Paul's Lutheran web page or on the church's Facebook page.
Additional Community Resource
Logos Christian Ministries also has a free produce pantry on the 3rd Saturday of the month at 582 Lee Street from noon to 2 p.m. in partnership with the Mid-Ohio Food Collective from April through December. For more information, contact Pastor Jackie Peterson at (740) 223-1515, email jackiep0927@yahoo.com or visit LogosChrisitianMinistries.com or their Facebook page.