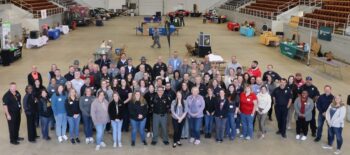 For 500 high school seniors, opportunities for education and careers close to home were on display at the Careers Made in Marion Expo on October 17, 2023, inside Veterans Memorial Coliseum at the Marion County Fairgrounds. Twenty-nine partners from a variety of fields offered more than 700 local job openings in manufacturing, banking, business, health care, law enforcement and the military.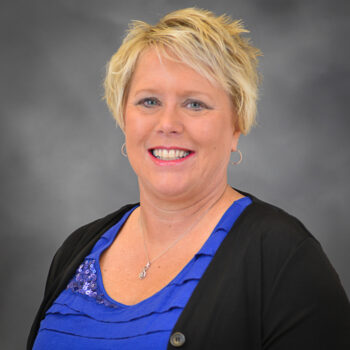 "This was a dream I had in 2019 to show Marion all of the great treasures," said Tami Galloway, project manager with America's Workforce Development Capital. "The Marion community has no idea that all of the White Castle hamburger and cheeseburger boxes are made in Marion at Graphic Packaging. The pancake mix you use at a hotel breakfast bar is likely made in Martel at Mennel Milling and the box the Marcos pizza was delivered in was made at International Paper here in Marion."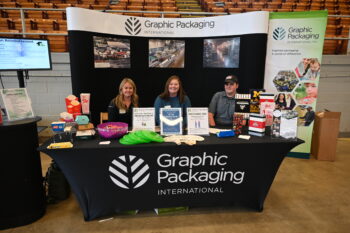 The Careers Made in Marion Expo is not only about civic pride but also about options after high school.

"Today we showcased what awesome career opportunities are available to individuals here in Marion that allows them to remain in Marion and be productive citizens," Galloway said.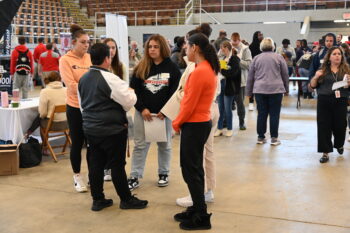 Students From All Schools Participated

More than 500 high school seniors from Buckeye Community School, Elgin, Marion Harding, Pleasant, Ridgedale, River Valley, Tri-Rivers Career Center and TRECA and Buckeye Community School attended advantage of the expo.

"It was a great experience!" one student said.

"It's fun and you can learn a lot!" another student said.

Many of the vendors had hands-on activities and demonstrations of their products.

"It was great to talk one-on-one!" another student said.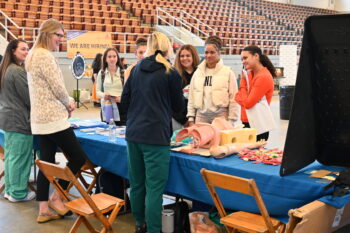 Employers Second Their Praise
"This was a great opportunity to educate the high school seniors of local businesses that are in our community. We found it valuable to showcase our company to those who had a profession in mind or were undecided," said Alex Abrams with Marion Logistics Center.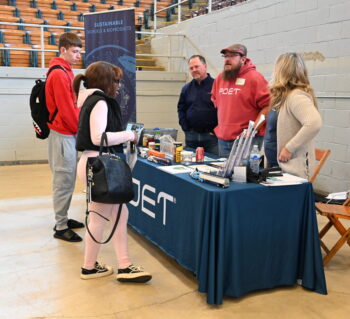 "POET was excited to be a part of the Careers Made in Marion Expo. It's a wonderful opportunity to engage with the next generation of leaders and share our insights about their potential career paths," said Aaron Rollins, plant manager with POET Bioprocessing in Marion. "At POET, we're committed to supporting and inspiring young minds as they embark on their professional journeys and help them explore the many possibilities our community has to offer."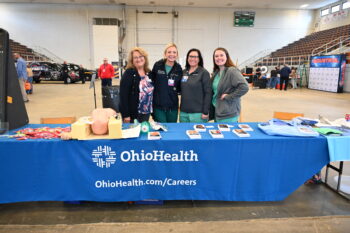 "We really appreciate being invited to the Careers Made in Marion Expo. Our hospital leaders love talking to young people about why they love doing what they do!" said Marianne Haught with OhioHealth. "In addition to nursing, we have some really cool health care careers that not everyone thinks about like surgical technicians, lab techs, respiratory therapy techs and biomed techs. We also love sharing our education benefits because most times, these students can work part-time for us, go to college and graduate debt-free with our education benefits. We need health care associates, so it's really a win-win for us and them!"
List of Participating Companies and Agencies

Additional participants included:
ArcelorMittal
Columbus State Community College manufacturing network (MEP)
First Citizens National Bank
Junior Achievement
Legacy Marion
Marion City Police
Marion County Sheriff's Office
Marion Fire Department
Marion Technical College
Mid-Ohio Energy Cooperative
Ohio State Highway Patrol
The Ohio State University at Marion
OhioMeansJobs of Marion County
Piston Automotive
Sika
Silver Line Windows and Doors
Tri-Rivers Adult Education
United Federal Credit Union
U.S. Army and Army Reserves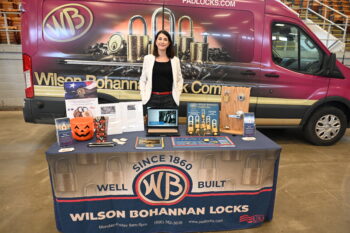 "The Expo is a great way for 12th grade students to learn about job opportunities," said Mike Augenstein, director of Workforce Solutions for Marion Tech. "It's not just positions that organizations need to fill immediately but also positions once these students have some technical training or a degree. It also connected students to the training providers locally to fill those jobs."
Made in Marion Expo an Annual Event

This is the fifth year of the Made in Marion Expo. Another is planned for October 15, 2024.
For more information
To get involved in planning the 2024 event, contact Tami Galloway at gallowayt@mtc.edu or visit  madeinmarion.org.