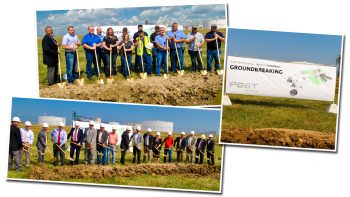 POET.
In 1983, Jeff Broin and his family observed valuable farmland going unused while the nation was importing millions of barrels of oil and farmers were going bankrupt. As a result, they made the decision to start producing biofuels on a small farm-scale operation in Wanamingo, Minnesota, to soak up surplus grain. In 1987, the Broins moved to commercial-scale with the purchase of a foreclosed biofuels plant in Scotland, South Dakota, marking the beginning of Broin Companies. The company kept that name until March 2007 when the POET name change brought all Broin entities under one strong identity.
From 1991 to 2001, POET Design & Construction designed and built 11 biofuel production facilities, five of which are still managed by POET Plant Management. Since 2002, POET has constructed 21 additional facilities, all of which are part of the POET Biorefining network.
Today, POET is a fully-integrated biofuels company, orchestrating the development, design, engineering, construction, and management of biofuels production facilities and then marketing the products. There are 28 POET Biorefining production facilities in seven states, annually producing 1.8 billion gallons of biofuels, 10 billion pounds of high-protein distillers grains and 550 million pounds of corn oil.
POET Biorefining–Marion is currently expanding its footprint which will ultimately more than double the facility's production capacity from 70 million gallons of biofuels per year to 150 million gallons. In addition, we will produce nearly 360,000 tons of high-protein animal feed, up from 178,000 tons at the current capacity. This expansion has a capital cost of $120 million, directly supporting area contractors and indirectly supporting hotels and restaurants in the community.
During construction, we will provide 225 jobs and will permanently hire 18-21 new jobs.
#MarionMade #WeAreGrowing #WeArePoet