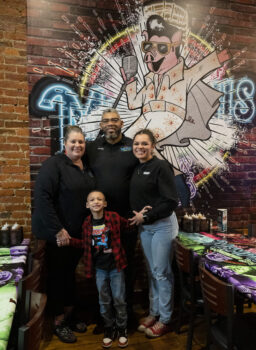 Robert Turner and Shannah Morgan were high school sweethearts who grew up in Memphis, Tennessee.
"Robert's mom was the cook. She cooked in restaurants and for neighborhood kids who were hungry," said Shannah. "Robert loves to cook. He always barbequed in the backyard."
"Cooking is my gift," Robert said. "I get joy out of seeing people enjoy my food."
From Memphis to Marion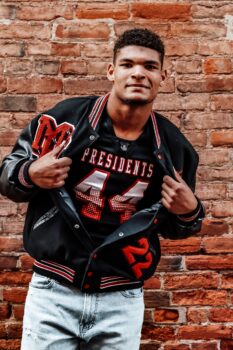 The couple moved to Marion for work about 20 years ago. Shannah worked for Verizon and then Frontier. After it closed, she became a 911 dispatcher. Robert was a coordinator at Bucyrus Precision Tech (BPT), which made car parts for Honda. They raised their two children in Marion, cheering on their son Rashawn at Harding football games and wrestling matches. Their grandson, Martin, attends George Washington Elementary School.
"Marion is our home.  We love Marion because it's a small town. Memphis is a huge city. Marion is a very close-knit community. You go to the store and you run into someone you know," Shannah said. "It's quiet, calm, and family-oriented. The community supports each other. We love living in a smaller city."
A Taste of Memphis Opens
The Turners valued local support when they opened A Taste of Memphis restaurant at 138 S. Main Street in 2020.
"We opened dead in the middle of covid. It was kind of crazy!" Shanna recalls. "We said, 'Hey, let's try it!' It took off and we have been lucky to be so successful!"
Robert makes all of his own seasonings. He smokes ribs, brisket, chicken wings, and other meats with hickory wood.
"My husband smokes the meat right out back. You can see the smoke roaring out of the top. You can smell it in downtown!" Shannah said. "We do everything homemade! Nothing is store-bought, from the cornbread to the banana pudding."
For smoked meat aficionados, they offer a selection of four dry rubs and six barbeque sauces.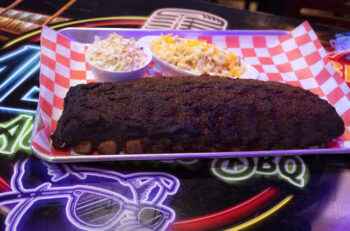 "The ribs are a hot item! Brisket is very popular," Shannah said. "We have something for everyone. We have a vegan menu. We offer gluten-free items. We try to cater to everyone."
Their mouth-watering menu includes appetizers, salads, sandwiches, and desserts all made from scratch.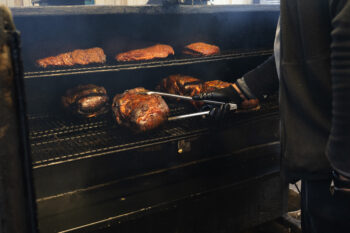 "Baked beans and mac'n'cheese are two of the most popular sides. We have popular sweet potato fries with a marshmallow dipping sauce and people want to drink it by the gallon. That makes those a hot seller!" Shannah said
In this family business, their daughter, Sierra, manages the restaurant while taking real estate classes.  Their son worked there until he started college at John Carroll University in Cleveland last fall.
"We're hands-on. We are there almost all the time. We care about how things work and flow," Shannah said. "We've got a good crew. We're a family-oriented place. Our employers have become our family. We had a Christmas party at our house and cooked for them. We also have regular customers that have become our family."
Their business doesn't stop at their front door.
"We do catering nonstop! With us being across from the Brickyard and down from the Union. If someone says to call and asks for a venue, I give them local options. We get business and give business," Shannah said.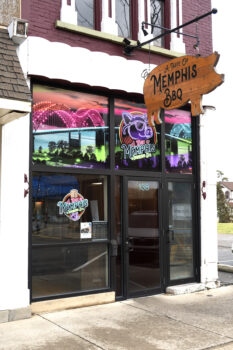 Community Support
The Turners took The Forge free business classes and were finalists in the very first Forge competition. That support from Marion is one of many reasons they give back.
"We're successful because we try to help in the community. We try to give back to local schools, police, and fire. You get what you give," Shannah said. "We've provided Christmas and Thanksgiving meals to the homeless shelter for the last two years. We do fundraisers for school sports teams."
While they thrive in Marion, they haven't forgotten their southern roots.
"We still say, 'Yes, ma'am' or 'No, sir!," Shannah said. "Robert opens doors for me."
They hope A Taste of Memphis offers the perfect blend of southern flavors and local pride. A Taste of Memphis is truly MarionMade!