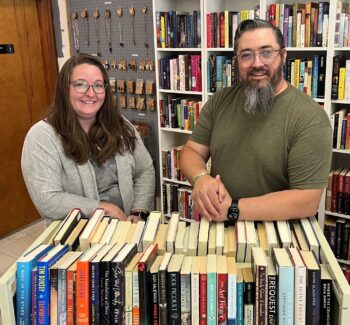 Tucked in between Hayes Glass and the Metro office at 117 North Greenwood, a new independent bookstore offers thousands of new and used books for readers of all ages. Crystal and Justin Bessler offer a range of genres at the Birch Tree Bookery.

"We both have always loved to read!" Crystal said. "Many of our friends were driving to Columbus for discount used books. We wanted to fill in a gap that was missing in Marion to keep money in the community."
Marion Roots

Crystal Murrell grew up in Marion and graduated from Ridgedale in 2000. She went to Indiana Wesleyan University to earn a bachelor of science in social work. There she met Justin Bessler, a Hoosier studying creative writing and computer graphics. They married and started a family, which grew to six children. They just celebrated their 21st wedding anniversary.

Justin earned a master of fine arts degree in creative writing from Ashland University. He wrote a collection of poetry and memoir essays for his master's thesis.

"I was officially married to a bona fide writer and unashamed book nerd!" Crystal said.

He also earned a master's of Divinity from Midwestern Baptist Theological Seminary in Kansas City, where he was ordained as a Baptist minister.
Returning Home

They returned to Marion in 2009 and live in Nevada, Ohio. Crystal homeschools their children, though one son is currently studying interactive media at Tri-Rivers Career Center.

"We want our children to become life-long learners and book lovers," said Crystal.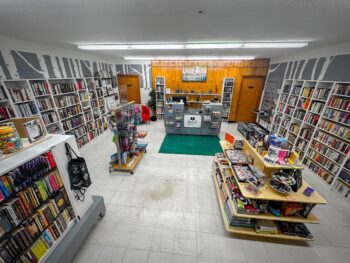 Bookstore Finds
The shelves offer an eclectic collection including romance, science fiction, fantasy, self-help, nonfiction, mysteries, young adult fiction, biographies, theology and Westerns. The Bookery offers discounts for all educators.

"It doesn't have to be a book for the classroom. Teachers need to relax, too! They can pick up a thriller and receive a discount," Crystal said.

The couple also handed out free books to students taking summer classes at George Washington Elementary.

"Children's books are our largest collection," Crystal said. "It's so important to promote a love of reading."

"We hope that people find us so we have to keep restocking the shelves," Justin said.
Online Options

Readers can order new books online at BirchTreeBookery.com. They are a part of Bookshop.org, a public benefit corporation that serves independent bookstores while offering 10% off the publisher's price.

"We're not going to take a trip to space based on how well we do with our independent bookstore, except in our minds as we read books," Justin said. "It supports our family, and we spend it locally."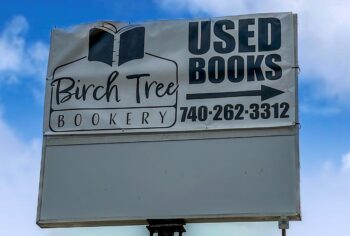 In the three months they have been open, they have enjoyed talking to hundreds of customers.

"We have a great library here in Marion. We look forward to helping to promote a love of reading and building a community around books," Justin said.

"Some people love to buy a pile of books so they always have the next book ready to start," Crystal said.

"We want to give books a good home," Justin said. "The more readers we can supply with books, the more conversations we can start around the books, the stronger the community becomes."

In addition to bestsellers, the store offers puzzles, board games, and Crystal's handmade jewelry.
Community Support

"The community has been very kind," Crystal said. "We receive book donations nearly every week."

This woman-owned business is looking for opportunities to collaborate with other small businesses.

"There's great support from other local business owners. All of that helps the community," Crystal said. "We want Marion to rise and thrive!"
More Info

For more information, customers can stop by the store on:
Wednesdays from 10 a.m. to 3 p.m.
Thursdays and Fridays from 11 a.m. to 6 p.m.
Saturdays from 10 a.m. to 3 p.m.
The bookstore can be reached at (740) 262-3312. They can be followed on Facebook.com/BirchTreeBookery.