For generations, Marion workers have helped manufacture products used by millions of people in their homes, on the roads and at their workplaces.  A quarter of Marion's workforce is in manufacturing, according to the Ohio Department of Job Office of Workforce Development's 2021 Economic Profile. That is the largest industry in the county, according to the U.S. Census Bureau.
Small Manufacturing Start
In 1846, Marion had 800 residents and a sawmill, a fulling mill and a carding mill, according to the Ohio History Connection. Later, quarrying limestone was one of Marion's first industries. Marion continued to grow due to its two railroads, making it an ideal spot for building and moving products. Today, two-thirds of the U.S. and Canadian markets are within a day's drive of Marion.
Inventor Brings Factory to Marion
In 1863, inventor Edward Huber revolutionized the farming industry with the revolving hay rake. The tool allowed one person to do in three hours the same work that traditionally took three people a full day to do by hand. Huber's cousins convinced him to open a factory in Marion due to its plentiful workers and abundant local hardwood. The Huber Manufacturing Company produced more than 200,000 hay rakes used by farmers around the United States.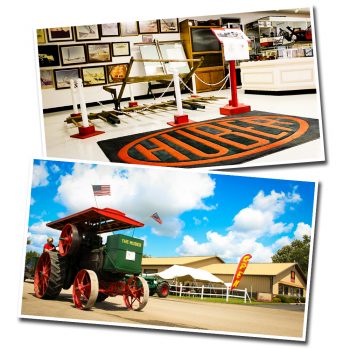 "I think Huber made Marion," said Karen Zucker, a volunteer guide at the Huber Machinery Museum.
"This is a huge piece of Marion's history and identity. We need to educate youth and celebrate this history," descendant Ed Huber said.
Huber Starts Marion Power Shovel
Huber earned more than 100 patents for his inventions. Huber made the first working steam tractor engine in Marion in 1874. He helped found the Marion Steam Shovel Company in 1884, which made agricultural and road equipment. It eventually was renamed Marion Power Shovel and employed 2,500 people at its peak, according to the Ohio History Connection. Marion-built equipment helped dig the Panama Canal and the Hoover Dam.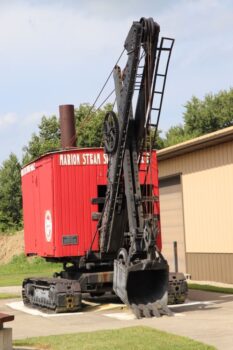 Wyandot Snacks Starts
Other entrepreneurs were also at work in Marion. In 1936, local couple Hoover and Ava Brown founded Wyandot Popcorn to make extra funds during the Great Depression. A decade later, they opened the Popped Right company which produced puffed snacks, tortilla chips and corn chips. In 1989, the two companies merged to become Wyandot, Inc. Still operating today, Wyandot Snacks is a national manufacturer of high-quality snack foods, cereals and products for leading national brands.
World War II and Post-War Boom
During World War II, Marion Power Shovel made road equipment for the military to build airstrips. In 1947, just down the road, the Isaly family expanded the Marion Pure Milk Company. The company opened what they called "America's most modern dairy plant."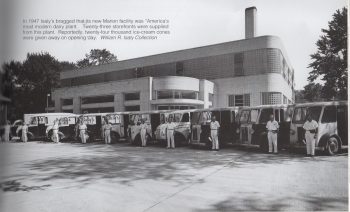 The Isaly Dairy on East Center Street provided milk to customers and stores across three states.
"When I was growing up in the 1960s or 1970s, I would run into people all of the time who said, 'I used to work at the dairy,'" recalls Lorraine Isaly Barker.
Whirlpool Opens
In 1955, Whirlpool opened a plant with 235 employees. It became the largest dryer manufacturing plant in the world. With more than 2,300 employees, Whirlpool is Marion's largest employer.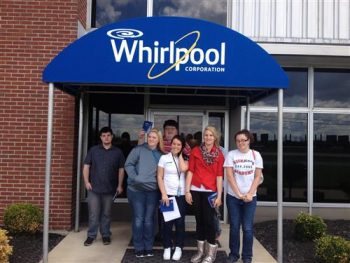 Modern Major Employers
Other major employers include Silver Line Windows, Piston Automotive, Nucor Steel, Mennel Milling, Union Tank Car and Graphic Packaging.
Industrial Parks
While some of the players have changed, the community is thriving with five busy industrial parks that house a variety of manufacturers including ArcelorMittal, Marion Industries, U.S. Yachiyo, Sika Corporation and Murphy Industries, Inc. These manufacturers produce a number of products including car parts, cardboard packaging, high-quality cables and steel tubing.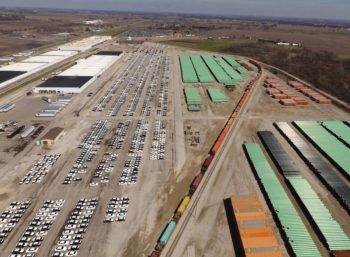 Powering Marion's Future
Marion's rich industrial tradition gave birth to many nicknames over the years, including Shovel City, the Popcorn Capital of the World and now America's Workforce Development Capital.
Throughout the decades, Marion residents have rolled up their sleeves to make products from car brakes to pancakes that have enhanced the lives of people around the country and the world.
MarionMade! is a program of Marion Technical College.