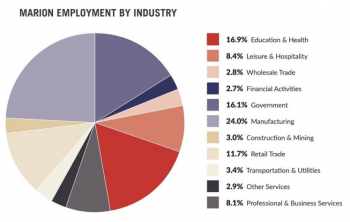 Contrary to the notion that Marion's industrial prowess is in its past, the community today boasts at least four industrial parks, each bustling with activity.  The Dual Rail Industrial Park, located on the city's northwest side between the CSX and Norfolk Southern railways; the Airport Industrial Park just south of the Marion Municipal Airport; the Cascade Drive industrial area adjacent to US 23, and the Marion Industrial/Intermodal Center each features a unique mix of manufacturing and distribution companies—with plenty of room for more.
In addition to the industrial "parks" there are other significant concentrations of manufacturing activity in Marion, often on the sites of former industries.  These include companies on the west and south sides of Marion.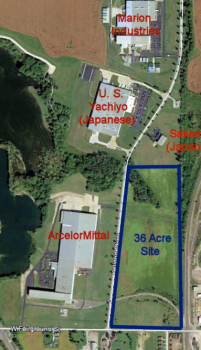 The Dual Rail Industrial Park, named for the competing railroads that run along either side of the site, houses four companies that arrived in the late 1990s and early 2000s.  The ArcelorMittal welded tube mill sits on the lip of the former Evans Quarry.  Quarrying limestone was one of Marion's first industries.  Today, the ArcelorMittal plant produces miles of welded steel tubing used in automotive, extraction and other industries.  ArcelorMittal is the world's largest steel company and the Marion plant is one of 20 of the company's U.S. operations
Marion Industries and Yachiyo are both tier one Honda suppliers, both constructed in the Dual Rail Park in late 1999 and 2000.  Marion Industries supplies Honda with brake assemblies and Yachiyo makes a million plastic fuel tanks each year in a highly automated facility.  Robots blow-mold and form the six-layered plastic tanks that are just-in-time delivered to Honda facilities in Marysville and other locations.
In 2001, another Japanese company, Sakamura USA arrived in the Dual Rail Park.  The Marion facility provides field service and parts to companies across the U.S. and Canada where Sakamura forging presses are located.  The cold, warm, and hot forging presses produce parts for the automotive, aircraft, medical and construction industries.  All four of the plants in the Dual Rail Park have expanded since their initial construction.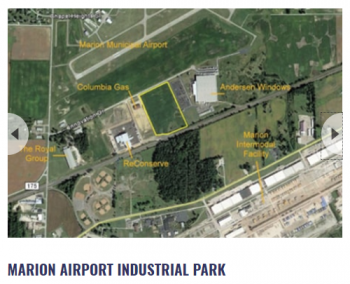 Planes, trains, and automobiles is the theme at Marion's Airport Industrial Park, located just south of the Marion Municipal Airport's runways.  In fact, available sites north of Innovation Drive would be ideal for air-related industries.  Silver Line Windows located a 300,000-square-foot vinyl window plant in the Airport Park in 2001.  Now Andersen Windows, the plant employs up to 900 people making vinyl windows for Home Depot, among other customers.  ReConserve, the newest industry on Innovation Drive, creates high protein animal feed from bakery and grain byproducts.  The Royal Group makes corrugated packaging and Columbia Gas has a training facility in the park.
Stretching over two miles along SR 309, the former 1940s-era defense depot is now The Marion Industrial and Intermodal Center—the only privately-run intermodal terminal in the United States.  Developed by entrepreneur Ted Graham, the intermodal facility handles truck-to-rail cargo boxes from at least four carriers.  The two million square feet of industrial buildings are home to 40 companies and house everything from the maker of commercial bathroom fixtures to a distributor of virtually all the Mexican beer consumed in Ohio and surrounding states.  Upwards of a thousand people work on the 510-acre site each day for companies such as Schneider National, Mills Company, Marion Intermodal, Boise, HBD, Sika, Owens Corning, Wyandot Inc., Bucyrus Rail Car, Stegal Construction, Lube Depot and Schwarz Partners.   Two hundred acres adjacent to the Marion Intermodal site are being marketed aggressively to site selectors by Marion CAN DO!, the community's economic development organization.
Redeveloping an Army depot isn't Graham's only contribution to Marion's economy.  The former Marion Power Shovel properties on the west and south sides of town also owe their revitalized state to Graham.  Plant One, on West Center and David Streets, houses a machinery refurbishing business and will soon be home to an animal feed supplement company.  Plant Two, at Barks Road and Cheney Avenue, houses heavy cranes that are now used by the Union Tank Car Company in its rail tanker rebuilding business.  Just north of Graham's facility, Nucor Steel is making an $85 million investment in the plant where they make rebar and sign posts.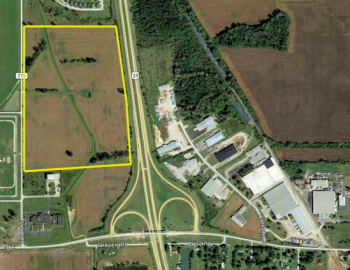 Adjacent to US 23 at Marion-Williamsport Road, Cascade Drive is home to numerous companies including Sika Corporation, a Swedish firm that makes concrete additives and adhesives, such as the glue that keeps the windshield in your car and sealants used on buildings all over the world.  The Cascade industrial site includes International Paper, making corrugated fiber board.  RiAlto Manufacturing specializes in machining low volume production components, such as assembly line fixtures, carts, racks and shipping containers. Murphy Industries produces bulk cable, hardware, and cable assemblies, wire rope clips and performs fusion cutting. Hildreth Manufacturing manufactures die castings in their own state-of-the-art foundry. Bohl Equipment is a forklift manufacturer; their crane division makes overhead cranes and lifting devices for many industries. Midstate Contractors specialize in historic building restoration and preservation.
Anticipating a growing demand for Marion's unique advantages in transportation, logistics, and quality of life, a new 70-acre industrial site, the Victory Industrial Park, is under development at Victory and Marion Williamsport Roads. Designed by Humble Robinson Development Group, the park's first speculative building is expected to be constructed this fall.
Marion's extension of Marion-Williamsport Road around the northwest section of the city not only provides Whirlpool Corporation with easy access to US 23; it also opens hundreds of additional acres to potential job-creating development in an area served by heavy electric power and industrial-strength sewer and water utilities.
Marion's evolution is well underway from a community dominated by a few big industries to one hosting a variety of companies thriving in today's global marketplace.
#MarionMade #WeAreIndustrious
Thank you to Gus Comstock of Marion CANDO! and Dave Claborn of The Ohio State University of Marion for contributing to this story. #WeAreCollaborators