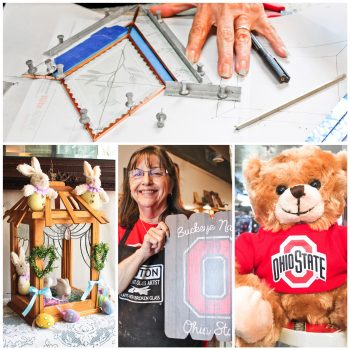 HOME AGAIN STAINED GLASS: 10 YEARS IN DOWNTOWN MARION
 .
Sherrie Haver moved to Colorado in 1972, where she opened her first stained glass retail shop. Colorado was enjoyable and the size felt right for some time; but, Marion was always home. In 2006, Sherrie and her husband came home for Thanksgiving and never looked back. Marion was once again where they would reside. While in Colorado, they missed the comfort of Marion and they decided moving back was the right thing to do. Upon their return, they opened Home Again Stained Glass in downtown Marion and the shop has now been open for a full 10 years!
 .
At a young age, Sherrie remembers admiring the beautiful stained glass collection her church, Emanuel Lutheran, displayed. Her love of stained glass only grew stronger and she discovered she enjoyed watching others develop a respect for stained glass. Today, she offers a 4-week class on Mondays from 6:30-9:00pm at Crosswoods United Methodist Church.
 .
The unique pieces Sherrie creates with stained glass are very important to her. Sherrie recognizes the value in purchasing materials that are made in the USA and strives to purchase that way as much as possible. When opening Home Again Stained Glass, Sherrie also recognized the community's love of the Ohio State University; so, offering a wide selection of OSU merchandise seemed appropriate. Locally-minded, she also carries the Woodland Elves book series by Marion author
Shary Williamson
.
 .
Marion is dear to both Sherrie and her husband, Rick. They love to support local events and organizations by donating to fundraisers. Every year they take part in the OSUM Buckeye Bash to raise money for a scholarship program. Sherrie also values the brave men and women who serve on our police force. At her store, you will find a blue bulb is always lit to recognize and honor our police force.
 .
#MarionMade #WeAreHomeAgainStainedGlass #WeAreSmallBusiness