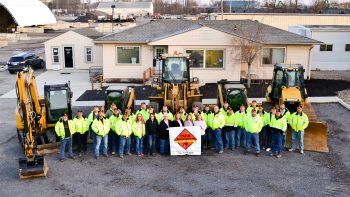 PARK ENTERPRISE CONSTRUCTION.
.
The team at Park Enterprise Construction sees land like a painter sees a canvas.
.
"We enjoy taking a bare piece of land and turning it into a new road, bike path, or building site," owner Eric Park explained. That passion–and an appreciation for heavy equipment–led him to start Park Enterprise Construction Company Inc. in 1989. And, just like any other project he undertakes, the business and its staff has transformed over time.
.
"We started out with dump trucks hauling material for large road contractors," Park recalled. Over time, they bought equipment and were able to tackle larger projects that signaled growth in Marion. One of their first was clearing the site and building the building pad and parking lot for the TV-39 building on North Main Street in Marion. Their latest was the new University Drive expansion on the east side.
 .
Eric is quick to turn the spotlight on his dedicated, hard-working staff of 50 as the reason for the company's continued success. It's obvious they're like a family who celebrates the good times and supports each other through the bad. While the economic slump of 2008 hurt several businesses, it actually became an opportunity for Park Enterprise.
.
Many people joined the team during that period and have grown right along with the company. A focus on training and developing leaders from within has led to numerous team members rising through the ranks. Real moments of celebration for the staff were the purchasing of their current location on Barks Road in 2005 and their most recent purchase of the old bowling alley building on Route 4 South. These moves helped the business solidify and enhance its presence in Marion.
.
That presence is certainly felt in the community through their charitable giving. Always strong supporters of 4-H and FFA, Park Enterprise makes regular donations to those organizations in Marion, Morrow, and Wyandot County. The company is also donating demolition services to help the Harding 2020 project move forward.
.
When you ask Eric why he chose Marion all those years ago and continues to keep the business firmly planted here, he gives many answers. There's the support they've received over the years from great clients in the area. He points to the quality of workers who've joined the business and made it a better organization through their efforts. But, it all gets summed up in the most important reason of all…"It's home."
.
#MarionMade #WeAreParkEnterpriseConstruction