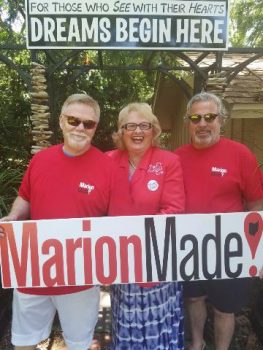 DREAMS CAN COME TRUE IN MARION, OHIO.
 .
Have you ever dreamed of a magical place filled with elves and fairies? Dreams can come true in Marion, Ohio. Former teacher and international author Shary Williamson has created such a place at her home. It's called the One & Only Forest and is the backdrop to her book series, The Woodland Elves. She regularly leads Woodland Adventures on the ¼-mile long nature trail filled with elf houses and fairy sightings. She has entertained guests from across Marion and around the world.
 .
"The trail provides creative moments for those who believe in the possibility that elves and fairies might exist," says Shary. "It's a happy union of nature, creativity, magic and fun."
 .
Her original book, The Woodland Elves, was published in 2014; thousands of copies have been sold and can be found in schools and homes in 68 different countries. Earlier this year, a sequel, The Woodland Elves: The Secret in the Forest, was published and a third, The Buried Treasure, will be released in the coming months. Her collaborators include illustrator Jay Johnston (also from Marion) and composer Russell Kendall.
 .
The books take a page from reality, including a grandmother who built a treehouse for her grandchildren. Shary is that grandmothers and the treehouse is very real. It is the start of the Woodland Adventure experience, which includes a visit to the elves' Enchanted Village, as well as a trip down the trail and its craft and activity stations.
 .
Shary W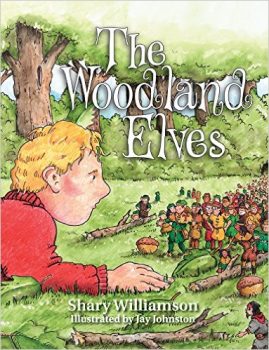 illiamson's career as an educator spanned four decades—teaching children from preschool through high school. She is also an avid volunteer, with 1,000+ hours directing children's choirs at local churches and visiting little ones at Marion General Hospital.
 .
Her contagious enthusiasm and positive energy follow her wherever she goes. Her well-known mission statement hung in her classroom for 40 years, and it still hangs in her home today. It is the motivation for the creation of The Woodland Elves. Simply put, her mission statement is to "Pass the Joy of Life Around!"
 .
The Woodland Elves have their own Facebook page and website, where would-be visitors can learn when the next Woodland Adventure will take place. The books are available locally at the Marion Flower Shop, Marion Public Library's bookshop, the Marion Area Convention and Visitors Bureau and
Home Again Stained Glass
. Shary will gladly personalize the books.
 .
#WeAreMarionMade #WeAreMagical