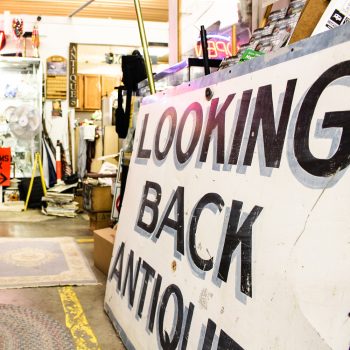 MORE THAN A PLACE TO SHOP
It started as most small businesses, a hobby became a career for Karen Harris of Marion. She says her inspirations were an aunt and uncle who loved to go antiquing–a love they passed on to her at an early age. That passion for all things old found an outlet as a booth owner in an antique shop in Delaware for several years. Then, when Don Perin was building the Grand Prairie Market at Linn Hipsher Road and State Route 23, several friends told Don he needed to call Karen to fulfill Don's desire to include an antique shop on the property. That phone call lead to the opening of Looking Back Antiques in 2003.
The 12,000 square-foot shop is a collector's delight. Karen says her goal is to provide a mix of items so that there is something for everyone–from the serious collector to the casual antiqueer to the person looking for something old to repurpose. Whatever their reasons for stopping in, Karen says working with her customers reminds her that she is fortunate to have a job she loves every day.
While the shop's location on State Route 23 means most of her customers are travelers, a good number of Marion residents stop by regularly to see what's new. Some of those local customers are younger people that Karen says she welcomes and tries to encourage in them an appreciation for the quality and history of the items. While Looking Back Antiques is a business, Karen says her greatest satisfaction is serving people in the community during difficult times. Most antiques and vintage items make their way to shops through estate sales and auctions. She handles these sales for the benefit of the family first, understanding that these are her neighbors.
#MarionMade #WeAreAntiques #WeAreSmallBusiness