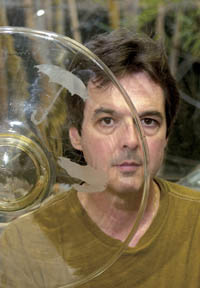 Occasionally, on a quiet back road outside of the Village of Waldo, lurks artistic genius.  While he spends the majority of his time as a full professor of art at the University of Hawai'i Manoa (UHM), Rick Mills is a Marion native and nationally recognized artist known for his large scale glass and mixed media sculptures.  And, occasionally he can be found in his Waldo barn which is being renovated into an art glass studio.
Mills grew up in Marion and received his Bachelor of Fine Art degree from Ohio State, as well as a Masters of Fine Art from the University of Hawaii. Much lauded for his talent, Mills received two Creative Glass Center of America Fellowships in Millville, New Jersey, and a research fellowship at the Royal College of Art in London, England. Mills was hired in 1988 and charged with the goal of building the UHM's glass program, which now awards undergraduate and graduate degrees with an emphasis in glass making.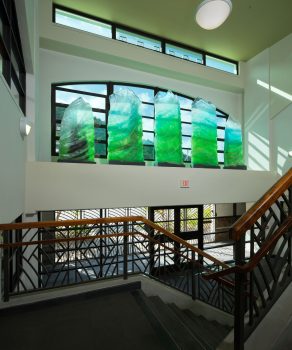 "Developing an artistic voice is difficult to begin with and takes concerted effort, patience and a willingness to contend with failure. To develop ones' voice in such a challenging medium as glass is even more difficult," said Mills. "I believe my role as a professor is to foster a supportive, yet challenging, learning environment to inspire students to excel and to help them develop as thoughtful individuals, good global citizens, and great artists. I try to instill within each of my students the sense responsibility to their community that comes with the honor of being an artist."
In 1989, he initiated the Visiting Artist Program in Glass to bring artists from around the world to the University to share their expertise with his UHM students. More than 65 artists have donated the work they made to the program to enable the next artists to come to Hawaii. Additionally, Mills taught courses in glass casting at the renowned Pilchuck Glass School in Stanwood, Washington. Through the years, his work has been widely exhibited locally, nationally and internationally in such diverse places as the International Glass Kanazawa in Japan, Crossings in France and Hawaii and the Friesen Gallery in Seattle.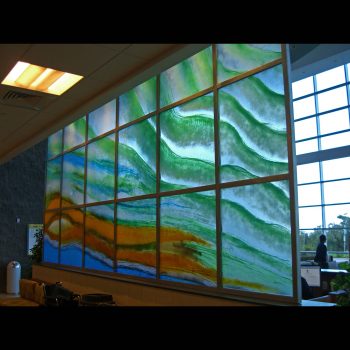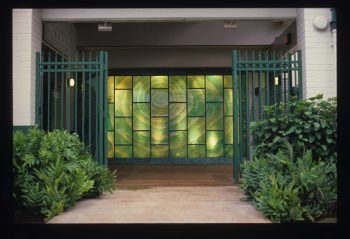 Mills is recognized for his large-scale public sculptures in glass. Two notable commissions by the Hawaii State Foundation on Culture and the Arts were created for the Queen Liliokalani Student Services Center at the University of Hawaii at Manoa and the Hawaii Convention Center in Honolulu.  Another of his large glass wall relief sculptures resides at Leilehua High School in Hawaii, as does his glass curtain wall at the Maui Memorial Medical Center.
A Google image search for "Rick Mills glass" will produce a feast for the eyes.
In 2002, Mills received the Baciu Award for his glass sculpture entitled "The Midden and the Maid" in the Artists of Hawaii annual statewide exhibition at the Honolulu Academy of Arts. His sculptures and blown glass are in numerous private and public collections. More recently, in 2015, Mills completed a series of five large-scale monolithic glass sculptures entitled "The Spirit of Manoa: In the Light of Day" for the new Hawaii State Public Library in Manoa, Honolulu, as part of SFCA's Art in Public Places Program.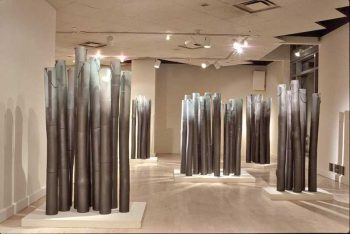 His recent works often encapsulate figurative elements in cast glass, as in Once Empty, Twice Full in the collection of the Hawaii State Art Museum. The Glasmuseet Ebeltoft in Denmark, the Hawaii State Art Museum, the Honolulu Museum of Art, the Museum of American Glass (New Jersey), and the Royal College of Art (London) are among the museums holding works by Rick Mills.
Locally, he has been renovating his family's Amish barn into an art glass studio since 2008. Rick and his wife, Hanae U. Mills, have long dreamed of building the studio on the property and, after 10 years of determination and help from long-time friends, opened the studio with a Christmas glass sale in December 2018.  Hanae is also an artist; she is accomplished in printmaking and mixed-media works.
"Ohio has a great deal to offer," said Mills. "Sometimes you don't realize what you have until you step away from it and gain some perspective. People are very friendly, helpful; and parts of Ohio are incredibly beautiful and unique."
#MarionMade #WeAreArtists