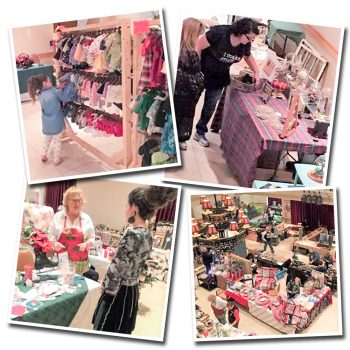 America Recycles Day Eco-Art Show is Marion Made!
Eco-Art Show was first hosted at The Marion Palace in 2010 and was an instant success, winning first place in the Keep Ohio Beautiful America Recycles Day photo/event contest th at year. Sponsored by Marion County Recycling & Litter Prevention, the annual show features fine art and handcrafted items made from recycled, upcycled, and repurposed materials. Enjoy hors d'oeuvres, cocktails, wood-fired pizza, and fresh theatre popcorn while you shop for that unique, earth-friendly holiday gift on Saturday, November 18 from 11am-6pm.
This free event encourages the Marion community support the both the arts and the environment. Folk art handed down from the tradition of making do includes scrap fabric quilts, rag rugs, feed bag aprons, and decorated barn siding. Pop artists showcase liquor bottle lamps and pop tab jewelry. Other popular eco-art items include handmade natural soap, upcycled jewelry, rescued pallet furniture, wool sweater mittens, holiday décor, bird houses, and more.
The Eco-Art Show promotes sustainable living in the Marion area. It helps us all make our community a better place to live, work and play. Children are invited to participate in art activities with educators from Marion County Parks District, ECO Center, and The Exploratorium. Everyone is asked to bring in old crayons and plastic bottles caps for recycling projects.
Celebrate America Recycles Day with MarionMade! artists, including Ben Kern (The Guild: Fine Arts & Handcrafts), Shary Williamson (Woodland Elves), Ann Crump (Sews A Lot), Sandy Dye (Artisans Guild), and many others, along with artists from Dayton, Richwood, Cincinnati, Sandusky, Wooster, and Columbus.
Don't forget November 18 to see what the Eco-Art Show has in store. Help͞ Keep Marion County Beautiful by keeping our corner of the world clean, green, and beautiful.
#WeAreMarionMade #WeAreTheEcoArtShow #WeAreRecycling