River-to-Lake Freedom Trail
With hidden rooms and under cover of darkness, a secret network helped escaped slaves journey to freedom in Canada in the 1800s. Several Marion County families and locations aided them along the way. The Ohio Department of Transportation mapped the River-to-Lake Freedom Trail from Portsmouth along what is now State Route 23. North of Marion County, it follows State Route 4 to Sandusky and the shores of Lake Erie.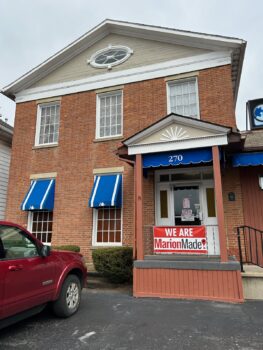 DeWolfe House Stop
One of the stops is reputed to be the DeWolfe House at 270 East Center Street at what is now Laipply's Printing & Marketing Solutions. Judge Ozias Bowen built first brick house in Marion County in the 1830s.

Effie Laipply said a metal plate covers a cistern behind the house.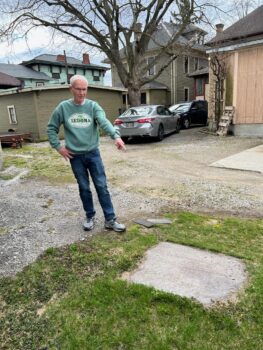 "Slaves would hide in the cistern until dark. At night, they would move through the grapevines to the railroad where they could ride the train north," Laipply said.

A history compiled by local historian Carroll Neidhardt and printed in Laipply's annual calendars states that Bowen's house was reputed to be a station on the Underground Railroad. The original kitchen was in the basement. It had a hidden room with access through a small door just two feet off the floor for runaway slaves to hide. A cupboard disguised the door.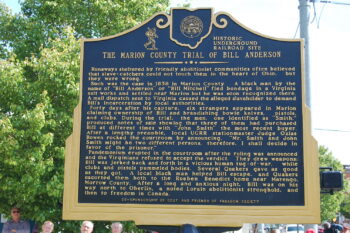 Trial of Bill Anderson

Judge Bowen also presided over the Trial of Bill Anderson in 1839. A group of southern slave catchers accused Anderson of being an escaped slave. Judge Bowen, president of the court of Common Pleas, along with Judge Thomas J. Anderson and George Gray, heard the case to a packed courthouse. They ruled that Anderson was free.

Upset at the verdict, the armed southerners grabbed Anderson and dragged him through the streets to try to get a different verdict from Commissioner Bartram. Judge Anderson's letters described how violence broke out. A law student tried to stab Judge Bartram. During the commotion, Bill Anderson escaped despite being hit by a knife. Local men helped Bill hide until he could move north.
Additional Stops and Conductors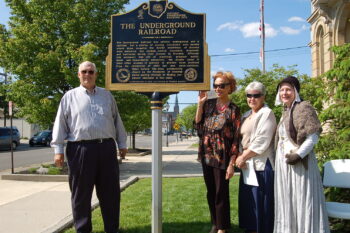 Marion County had a number of routes and station operators on the Underground Railroad that served as a pathway to freedom for escaped slaves. The Marion County Historical Society states that among the more noted station operators were Judge Thomas Anderson, a Methodist; Allen McNeal, a Presbyterian of Tully Township; and Joseph Morris, a Quaker who lived in Richland Township.
Judge Thomas J. Anderson's home at the corner of East Center and north High Streets in Marion was one of several stops along the Underground Railroad in Marion County, according to the River-to-Lake Freedom Trail document.

The Freedom Trail guide states that Morris hid escaped slaves in his home's basement and attic. McNeal's home was far from the road and secluded, so runaway slaves could stay without being detected. McNeal was an Abolitionist candidate for Congress and spoke out publicly against the evils of slavery, a risky act in that time.

In addition, the Freedom guide describes a stop on the east side of the Flat Run River in Marion County at the fork in the river where it meets the Olentangy River, which is south of Caledonia. The Scotch-Irish settlers ran grist and linseed oil mills and stone quarries. After experiencing oppression in Europe, they made their settlement a safe haven for runaway slaves for 40 years.

J. Wilbur Jacoby stated in his 1907 History of Marion County, Ohio that,

"For 20 years prior to the Civil War, many of the citizens of Marion County lost no opportunity to ally themselves with any anti-slavery movement. Ordinarily this sentiment found expression in the many successful efforts that were made secretly to conduct negro slaves from the southern states to Canada."

"There's a lot of history here!" said Ron Laipply. "It makes you proud of Marion."