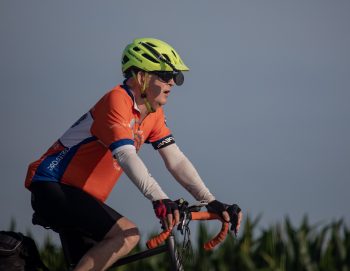 Biking to Make a Difference
Dan Sheridan, 61-year-old Marion resident, has completed two of his lifetime cyclist goals this summer.  Dan rode across the United States, from Seattle to Washington D.C., and he reached his 100,000 miles rode goal.  
Dan was part of a 25-person group, cycling with the Fuller Center Bike Adventure, a program of the Fuller Center for Housing.  Their mission statement is –"faith-driven and Christ-centered, promotes collaborative and innovative partnerships with individuals and organizations in an unrelenting quest to provide adequate shelter for all people in need worldwide."  During their adventure, starting on June 7 and ending on August 9, the cyclists helped seven people improve their living conditions by working on their homes or property. This is after they rode an average of 75 miles per day, with a total of 3,500 miles through 15 states biked. The building materials used to improve the properties were purchased from the funds each rider raised before they left on the trip.  Many of Dan's friends and family from the Marion community helped Dan complete his fundraising. 
Some of Dan's milestones were reaching 100,000 miles on July 26, reaching Ohio on July 30, getting to see his wife Shelly, children and grandkids, and of course, finishing the adventure.  Dan said about reaching the 100,000-mile mark, "I was very grateful because it was so nice to achieve something that I've tried so long for … and to have so many supportive people around me to help celebrate it."  He said the ride was an incredible adventure and that he has encountered so many things that he did not expect to see. He enjoyed having the chance to make a difference by doing some good while also achieving his cycling dreams.
Dan has been cycling since he was 33. After 10 years of cycling, he reached 28,000 miles and decided he wanted to try for 100,000 miles.  There are many days Dan can be found out riding on the Tallgrass Trail. We look forward to see Dan back on the Trail soon. Congratulations Dan on all of your efforts! 
#marionmade #dansheridan #FullerCenterForHousing