While local cancer patients are focusing on their health, local volunteers are working to support them. Together We Inspire Giving (TWIG) has six local chapters with dozens of volunteers working in a variety of ways to support the patients of OhioHealth Marion General Hospital of all ages.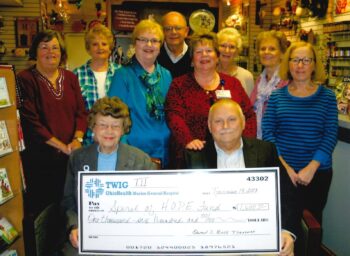 TWIG III: Focused on Oncology
The TWIG III group supports cancer patients. Some of its volunteers know the journey intimately. Vicki Bell of Marion is a breast and colon cancer survivor. She has volunteered for TWIG III since 2005. The group operates the gift shop at Marion General.
"Luckily, my cancers were caught early. You can't mess around. You need to get those screenings!" Bell said.
More than Half a Million Dollars Donated
Since 2007, TWIG III has raised and donated $611,725.98 to a variety of projects at Marion General with a focus on cancer. This group contributed $146,550 for an Endobronchial Ultrasound (EBUS) machine to detect lung cancer early. The TWIG Foundation matched the funds. Lung cancer is the leading cause of cancer death in Marion County, according to the Ohio Department of Health.
"We support all forms of cancer, because they are all important and we've all been touched by it," said Carla Hoback of Marion, president of TWIG III and a volunteer since the early 1980s. "When my husband was diagnosed with multiple myeloma, it was hard to find a burgundy ribbon. We sell sweatshirts that show all of the ribbons."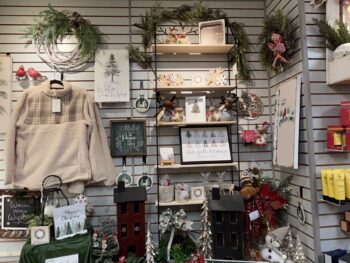 Supporting All Cancers and Local Cancer Patients
Ten percent of gift shop sales during October go to the Marion General Hospital Foundation Spirit of Hope Fund, established by Phyllis and John Butterworth to support cancer patients and their families with gas cards, prescriptions, groceries, and other needs.
"We also made a sizeable donation to the OhioHealth Marion Cancer Center here so people could get treatment without having to drive to Columbus each day," Bell said.  "We know people who have been served by the OhioHealth Marion Cancer Center and are so appreciative of the kind, good care they received."
In addition to providing Kindle tablets to help patients pass the time at the infusion clinic, and engraved chimes to celebrate cancer patients' last treatments, TWIG also provided items for cardiac care and the behavioral health unit.
Staff-Identified Patient Needs
Marion General department managers can apply to TWIG for grants.
"I don't think we've ever turned down an application," said Hoback. "Sometimes if it's a major expense, we provide what we can and other TWIGs or the TWIG Foundation provides the rest."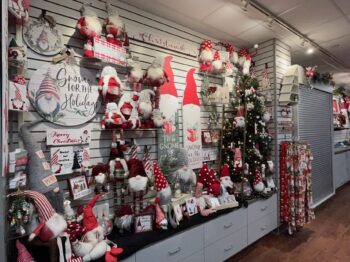 Upcoming Holiday Open Houses
The volunteers are working hard for their Holiday Open Houses. The first one is coming up on November 3 from 10 a.m. to 7 p.m. A second one for the hospital night staff is set for Nov. 8 from 9 p.m. to midnight. TWIG VII is holding an open house at the OhioHealth Marion Medical Campus on Nov. 2 from 10 a.m. to 2 p.m.
"Associates line up to see the Christmas displays and unique gift items," Hoback said.
"It's a fun time!" Bell said. "We have tremendous support from the staff."
Respite for Staff and Volunteers
The gift shop also serves as a respite area for staff and visitors.
"Sometimes, after a staff member loses a patient, they like to come in and listen to the music," Bell said. "Visitors come in and say, 'I just needed to get out of the room for a while.' If they want to spend some money, we can help them do that, too!"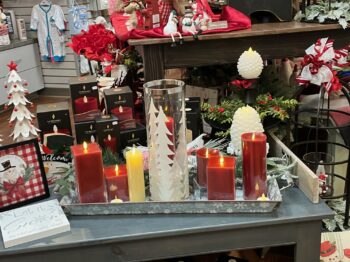 TWIG III: Serving the Community for 67 Years
The hospital snack and gift shop opened in 1956 with 80 volunteers.
"I give a lot of credit to those ladies," Bell said.
Today, 34 committed volunteers stock shelves and select the merchandise. Popular items include home décor, candy and Ohio State items.
Together, these men and women volunteered 6,620 hours in the last fiscal year. They are looking for new volunteers and new shoppers.
Accessibility
From the East Entrance, volunteers and shoppers can use Marion General's free valet parking during the day and request a wheelchair to get to the shop.
For more information
To volunteer at the gift shop, contact Volunteer Services at OhioHealth Marion General Hospital at (740) 383-8456 and ask for an application.
MarionMade! is a program of Marion Technical College.