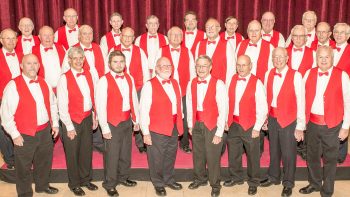 Originally from Attica, Ohio, Duane Kline moved to Marion in 1961 after college at Heidelberg to teach high school math at Claridon. With their first child on the way, Duane readily accepted and offer to be an assistant coach of the basketball team to supplement his income. Little did he realize that his desire to support his young family would lead to 30+ years of coaching in several sports. One of his favorite was cross country running, his 1966 team winning a state championship.
Kline says working with the young athletes was very enjoyable. With all he has given to the community, teaching, coaching, and as a founding member of the Marionaires Barbershop Chorus, Kline says he has received so much. Foremost is the satisfaction of his time teaching and coaching–knowing his was doing something meaningful.
Even 27 years after retirement, encounters with former math students and athletes are a constant reminder that his work made a difference. He relates a recent incident where a former student sent him a message telling how his perseverance in helping her with algebra was the example that is now helping her aid her 16-year-old daughter with the same challenge. Or on a visit Yellowstone Park when a voice called out, "Hey, Coach Kline," leading to a reunion with a former athlete. These and many more encounters, Kline says,are rewarding and reaffirm those years in the classroom.
Duane Kline isn't slowing down, even after almost three decades of retirement. He retired as director of the Marionaires two years ago, but still sings in the chorus. He took up frame making shortly before retiring, almost by accident, and now has a small framing business. He enjoys mounting and framing the memories of neighbors and friends. He says, "͞when they give you something to frame, it is meaningful them and you have to treat it with great care."
#MarionMade #WeArePeople