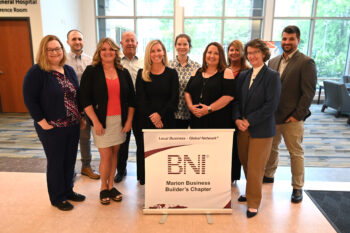 The Marion Business Builders Chapter of BNI (Business Networking International) exists to support local companies and nonprofits. For 20 years, members have referred friends, family members and colleagues to other members they know and trust. The local chapter has passed more than $11 million in business to area companies since its start. In the last fiscal year, they passed $264,445 in business to local companies and nonprofits.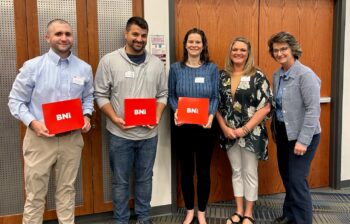 "I'm a new member and I've already had a number of referrals that led to new business," said Jaqueline (Laipply) Psyhogios, owner of Laipply's Printing and Marketing Solutions.
United Federal Credit Union has been a member for more than a decade. Leiha Lamb, a business loan officer, is president of the Marion BNI chapter. Diane Watson, communications manager for the Marion Public Library, serves as vice president.
"United Federal Credit Union focuses on service to our members and our community," Lamb said. "BNI is also focused on building relationships and keeping local. In addition to new business and new members, it helps open doors for community events like drives for Turning Point and area food pantries and partnerships, like hosting free shred days with MARCA Industries."
Members learn about each other's businesses each week at meetings as well as what sets those members apart.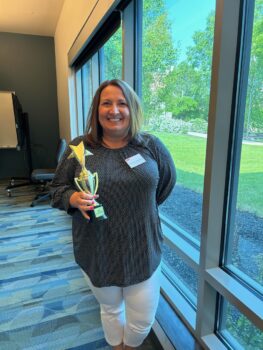 "I started as CEO when COVID-19 shut down the state," said Michelle Albertini, CEO of MARCA Industries. "BNI helped me make connections to the community and find training for our employees. It also promotes our new ventures, like the reMARCAble store in downtown Marion. It's also helped me find professionals to meet my personal needs, such as finding a great local realtor to buy a home."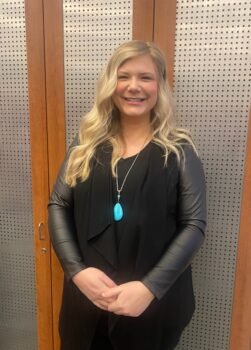 Membership in BNI helps promote local businesses around the region and find reliable businesses around the country and the world. One member was able to find trustworthy roofers for her grandmother who lives in another state.
"It's comforting to know these members have been vetted," said Wendy Weichenthal, public relations specialist with Marion Technical College and a long-time BNI member. "Every member has to apply, provide references, and be approved by a membership committee. If a company doesn't live up to BNI standards, they are kicked out. It's important to help friends and family members find someone they can count on to be honest and provide reliable customer service."
Why Referrals Matter
A Nielsen survey found that 92% of people trusted recommendations from friends and family above all other forms of advertising. Members track their referrals and closed business so they can see the return on investment.
"Though our leads may not be measured in dollars, what we do get is a great group of advocates who are literally an extension of our marketing team as advocates for what we offer individuals and the community through Library services," Watson said. 
Social Event and Visitors Day
BNI is hosting a networking event at the Wine Down, 119 W. Huber Street in Marion, on Wednesday, June 21 at 5:30 p.m. A Visitors Day will be held the following Tuesday, June 27 at 8 a.m. at Marion Technical College, 1467 Mt. Vernon Avenue, in the Health Technologies Center.
To RSVP, go to the Facebook event, contact President Leiha Lamb at (740) 383-5281 ext. 5651 or llamb@unitedfcu.com or Vice President Diane Watson, at dwatson@marionlibrary.org. Those interested can also visit the Marion Business Builders BNI Chapter Facebook page or go to bni.com.