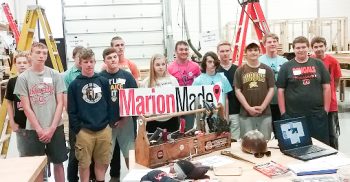 THE CONSTRUCTION TRADES ACADEMY AT TRI-RIVERS CAREER CENTER.
The Construction Trades Academy at Tri-Rivers Career Center may be brand new—with classes starting Fall 2017—but they already know everything they'll build will be MarionMade!
Instructor David Willey created a unique incentive program where his students will each receive a MarionMade! sticker for their hard hats upon completing projects and showing leadership skills.
"I want to instill a sense of pride and ownership of where they live," said David.
Hats off to Tri-Rivers for the great new program!
#MarionMade #WeAreBuilders