RECYCLING…FAMILY-STYLE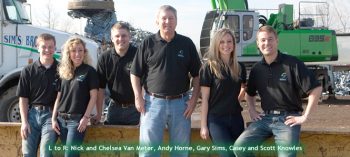 Sims Brothers, Inc. started with nothing but a wagon and a dream.
During the 1920's, two elementary school-aged brothers, out of economic necessity, started collecting scrap metals and waste paper throughout the city of Marion, Ohio. Using a small hand-pulled wagon, Carl and Donald Sims sold the materials to a local scrap processor.
From that humble beginning, the boys graduated to a dump truck. Eventually, Sims Bros. Inc. grew from a simple scrap peddling operation into a sophisticated, environmentally aware, multi-faceted recycling/processing management operation. Hard work, integrity and dedication to customer service have motivated this family owned business for over 75 years.
Today they employ more than 160 people at facilities in three cities and at numerous customer sites. This privately owned business is now owned and managed by Gary Sims, President. Gary prides himself of Sims Brothers being a Marion-made, hands-on, people-minded and service-oriented business, processing 550+ million pounds of recyclable material every year.
He'll be the first to tell you, when you put your heart into a family business, it's in the right place.
#WeAreRecycling