MarionMade! has spent six years highlighting Marion's rich history and bright future. From signs in business windows to T-shirts and banners in annual Popcorn Parade, support for this effort is visible in the community. More than 450 articles have featured local families, agencies, landmarks and locales. Thousands of people have visited marionmade.org and shared info on social media.

"Wishing a happy 6th birthday and continued success to MarionMade!" said Dean Jacob, president and CEO of the Marion Community Foundation.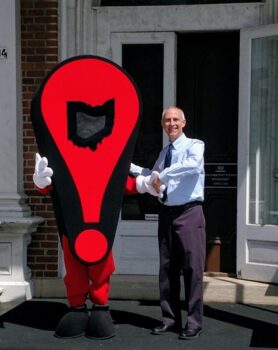 "The birth of the MarionMade! community pride initiative six years ago brought a renewed awareness of the profound impact of Marion's people, places, products, and programs," said Bev Ford, executive director of the Marion Area Convention and Visitors Bureau. "The Marion of today stands upon the shoulders of great MarionMade! efforts of generations before us. This spotlight on our community generated a new excitement about all we have accomplished and who and what we can be in the years ahead."

The MarionMade! was the brainchild of Marion native Bryan Haviland. Many groups worked to launch and support this award-winning campaign. The Marion Community Foundation launched the program. Marion Technical College now leads it.

"MarionMade! is proof we proudly stand together in support of our vibrant community." Said Denny Ferguson, executive assistant with Marion CAN DO!

"MarionMade! is helping the community move forward and focus on our strengths and our direction. From the growth in downtown Marion to the many new nonprofits, businesses and industries, it shows our investment in and excitement for Marion's future," said Mayor Scott Schertzer.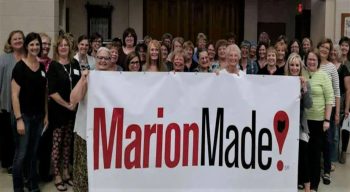 "MarionMade! brings attention to new businesses that perhaps local residents would not have known about. It also benefits people who can find local services instead of having to drive to another community," said Breanna Malone, operations manager at Busy B Cleaning.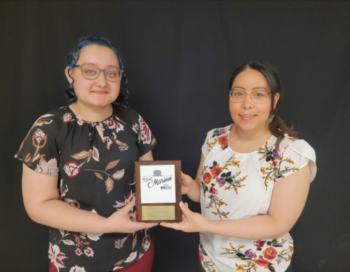 Matt Carbary, former president of the Marion Area Chamber of Commerce, encouraged local businesses and residents to share their community pride at the annual meeting.

"This community is amazing! It's filled with so many passionate people who care so much and see continued potential. Sometimes on social media a small number of negative voices can have an overwhelming presence, but the number of positive voices and positive outlooks are growing," Carbary said.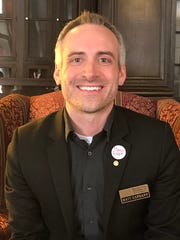 As an example of the impact of MarionMade!, Carbary sited the annual Leadership Marion class survey results. Typically, participants have negative or neutral views on Marion at the start of the class. After spending a year learning about Marion, they have a positive view of Marion County.

"This was the first class since we started tracking this 12 years ago that the class STARTED OUT overwhelmingly positive!" Carbary said. "So don't give up. Don't stop telling Marion's stories of success. It's working!"
MarionMade! can have a positive impact far beyond the county line and into the future.


"Marion CAN DO! works to bring new businesses and industries to Marion County. It is critical that site selectors and executives see that Marion is a great place to live and work. When they take a tour, we want them to see and hear people who take pride in our community. MarionMade! is crucial to helping promote the many positive aspects of our city," said Gus Comstock, director of Marion CAN DO!

"When the community succeeds, we all benefit," said Dr. Ryan McCall, president of Marion Technical College.
"I am proud to be MarionMade! and celebrate this initiative and all those who have contributed to it," Ford said.

In addition to hundreds of articles, the MarionMade! website includes a toolkit and information on logo licensing. It also has a free lesson plan for third grade students created by local teacher Shelley Pickens.

To read positive stories, suggest a topic, subscribe to the monthly enewsletter or get involved, go to MarionMade.org, email marionmade@mtc.edu, call (740) 386-4215 or follow them on Facebook or Instagram.