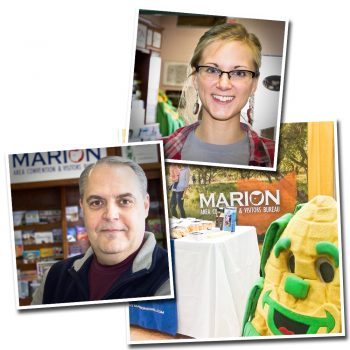 THE MARION AREA CONVENTION & VISITOR'S BUREAU
When the Marion Area Convention and Visitors Bureau (CVB) was established in April, 1985, tourism was a little-known industry. Most of us simply traveled to where friends and family recommended, occasionally responding to the few travel brochures available. All that changed in 1983 when the Ohio General Assembly approved legislation permitting county governments to assess a 3% tax on hotel stays. The lodging tax, as it has become known, would provide funding for counties across Ohio to establish visitor bureaus to actively promote tourism in their areas. It was a popular tax in that local residents did not pay it, rather visitors to the area.
CVBs function as a destination marketing organization, with the primary focus being to reach potential visitors with compelling messages that lead to visits. This is accomplished through advertising in travel publications, producing a visitor guide, and, in the digital age, through social media and online advertising. But, a CVBs role is more than just advertising. It includes working with organizers of bus tours, events, meetings, conferences, sports tournament and any other activity that can bring visitors to town.
The Marion Area CVB works with local tourism businesses to help create campaigns that convey the unique qualities of our community–things like being the home of a president, one of the country's biggest popcorn museums, or our host of truly local restaurants and shops. Understanding that the majority of vacations are weekend getaways or even day trips, the CVB promotes Marion as a place to escape the rush of life for a little while, enjoying our relaxing pace among friendly people. And, tourism is indeed big business for Marion. Visitors spend more than $100 million each year when they visit, support hundreds of jobs, and create tax revenues to support our community's infrastructure.
Now in its 32nd year, the Marion Area CVB continues to work to present our community as a great place to not only visit, but to live.
#MarionMade #WeAreTourism