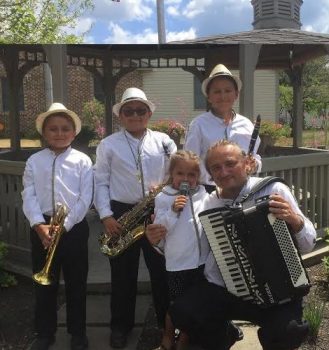 A FAMILY DEDICATED TO MAKING COMMUNITY CONNECTIONS.
Evelyn Lisiecki, was born in Perú, and her husband, Tomasz Lisiecki, in Poland. After moving to Marion from Manchester, Connecticut, thirteen years ago, they immediately started to make a connection to the community.
Evelyn is probably best known as the Latino Ministry Coordinator of Saint Mary's Church. She feels blessed to have the opportunity to make a positive impact on the Marion Latino community. She works to recognize the needs of Latino parishioners and coordinates avenues, through the church, to fulfill those needs, thus helping them make a connection to Marion. She spends time organizing events such as the annual Health Fair and Family Day in April and the celebration of Our Lady of Guadalupe in December. The December celebration includes a two-mile procession, a Mass, and a dinner which also features a Mariachi group. Most recently, she has coordinated the English as a second language classes.
Evelyn has entrenched herself and her family into what they now call home–Marion. After moving to Marion, she and her husband were blessed with four children. In early 2015, they formed a performance group using the family's musical talents. Her husband plays the accordion; Mateusz, 12 years old, plays the clarinet; Alexander, 10 years old, plays the saxophone; Sebastian, 8 years old, plays the trumpet; and Urszula, 5 years old, plays a small drum. They all sing in English, Spanish, and Polish. They perform at many nursing homes and senior residences, the Senior Center Hall in Prospect, and Pleasant in Marion. As a family, they play musically at Marion Manor, Marion Popcorn Festival, Saint Mary Parish Festival, Tri-Rivers, and have been invited to perform at more outdoor festivals around town.
Evelyn adds, "We are very proud of making a positive impact in the Marion community. It is our pleasure to bring music and pleasant performances throughout the area. We encourage children to find an interest in instruments and music to express themselves. We just truly enjoy sharing our talents and watching spectators smile, sing, clap, and enjoy. Everything we do, is made with love, and we always pray that Marion is filled with it too!"
#MarionMade #WeAreFamily