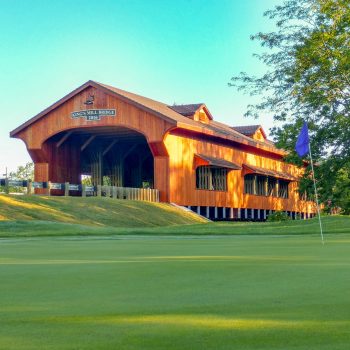 Every place has a story–a story of the people who inhabited that place over many generations. The Kings Mill Golf Club is no different. Originally settled by Titus King in 1830, the King's built a mill on the Whetstone River in southeast Marion County near Waldo. It was a natural fit–130 years later when John and Jean Russell purchased the land–to build a golf course that they would name Kings Mill Golf Club.
The front nine opened in 1966, and the back nine followed in 1973. The course, with its rolling terrain nestled along the banks of the river, quickly became a local favorite and attracted golfers from beyond Marion County.
In July 2017, Linda and Rich Krom purchased the course from the soon-to-be retiring John Russell, Jr. As Linda said, "It was never our intention to buy a golf course. We were happily retired. I was a member here and I loved this golf course. I think it is just beautiful."
Upon learning that the course might possibly be sold for farmland or a housing development, the Krom's  decided that they just had to do something to keep the historic course part of the community. After several months of negotiating, securing financing, and planning, the Krom's became the proud owners of Kings Mill on July 13, 2017.
Just as important as saving the course itself, said Linda, is that, "We kept on all 25 employees at Kings Mill. That's 25 jobs saved for our community." Jobs like that of Greg Lower, who has been the course superintendent for 48 years.
Since the Krom's have taken over, golfers have personally thanked them for keeping the course open. One such visitor relayed that his father died a few years ago and some of his fondest memories with his father were their times at Kings Mill. And, it is stories like this, Linda said that are the reward they get for the long days running a golf course and why they hope to keep Kings Mill available so more memories can be made from tee to green.
#MarionMade #WeAreKingsMillGolfClub