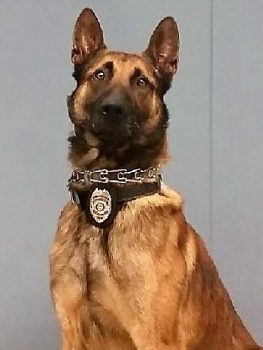 During the month of October we are highlighting information about the K9 units of Marion County. The dogs are trained to conduct building and large area searches for hidden criminals, tracking lost persons and criminals, article/evidence searches, and narcotics detection. Though this is a light-hearted interview, asking questions as if the dogs have voices, they are valued personnel to the police department and community.  We thank them and their partners for their service and time given to protect the people of Marion County. 
Can you tell us what your name means and how you got this name?
My name is Joker, and my owner in France gave me this name. It's probably because I like to have fun all the time and I make people smile.

What kind of dog are you? Before coming to Marion County, where did you live?
I am a 4-year-old Belgian Malinois, and I was born in France. I lived in France for a little over 2 years where I competed and became titled. I was brought to the United States by Storm Dog Tactical in Sunbury, Ohio, before meeting my new partner, Officer Wheeler.
You have a partner–Officer Richard Wheeler. What are his best characteristics?  How long have you worked together?
Officer Wheeler is my best friend; we spend every day together. Whether it be at work or home, I am with him. He is very dedicated to making me the best I can be at my job. I first met Officer Wheeler in February 2018, where we started our 6 weeks of training together every day. We started patrolling the streets of Marion in late April and have met a lot of people since then.
What is your best skill at work?
I have a lot of responsibilities when I'm at work, from finding drugs, finding bad guys, finding evidence, to protecting Officer Wheeler. I enjoy doing all of those things, and have done all of them well. I like doing whatever is needed for me to get my toy.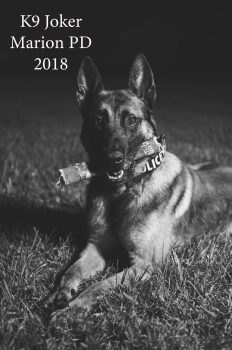 At your time off what is your favorite thing to do? Do you have a favorite toy?
On my time off I like to lay around and sleep. I love to be outside, whether it's going on walks, laying in the grass, or getting the frisbee thrown to me by Officer Wheeler. My favorite toy is anything attached to a rope, although I don't get those much because I eat the rope. I have a very hard bite, so I go through a lot of toys.
If you could tell the people of Marion anything, what would you want to say?
I want to tell the citizens of Marion THANK YOU! Thank you for supporting K9 Six, K9 Stash, and I (along with our partners). I know we all enjoy our jobs and doing our part to make where we live a better place. Stop out to one of our many events and say hi!
#marionmade  #WeAreMarionPoliceDepartment