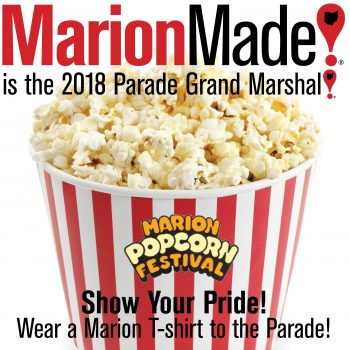 MarionMade! will be the Grand Marshal for the 2018 Marion Popcorn Festival parade. The annual parade kicks of the festival, starting at 6 p.m. on Thursday, Sept. 6.  The parade heads west on Center Street from Forest Lawn Boulevard, turns south on State Street, and continues west on Church Street, before making the final stretch south on Main Street to Hill Street.
MarionMade!'s grand marshal entry will feature the MarionMade! mascot, an exclamation mark created by local – and world renowned – costume creator Promo Costumes, and an entourage of MarionMade! committee members, Marion Community Foundation's staff and Board members, and their families
The MarionMade! mascot was created and donated to the community pride initiative just after the effort launched in early 2017.  Since that time, it has made multiple appearances at community events, such as Saturday in the Park, National Night Out, school functions, and even a few donut deliveries. It is a larger-than-life version of the exclamation mark from the MarionMade! logo.
The mascot will be visible high atop Black Tie Enterprise's SUV limousine and accompanied by a multitude of walkers and the MarionMade! committee chairs following  in a convertible.
Since February 2017, MarionMade! has been spreading good news about Marion's people, places, products, and programs with a goal of instilling and fostering pride in Marion County.
"We are honored to be chosen as this year's Popcorn Festival grand marshal. The festival means so much to the community; telling our history, providing quality entertainment and fun time for families and highlighting our community to visitors coming to discover what we have to offer," said MarionMade! program manager Vicky Branson.
And, Branson said, MarionMade! is encouraging everyone to participate in a show of community pride by wearing any "Marion" t-shirts or clothing to the parade.
"We just think it would be great if everyone who comes to watch the parade could also wear something Marion-related," she said.
"MarionMade! is an exclamation that we have a vibrant community composed of wonderful people, places, products, and programs. We are truly honored to be chosen as the Grand Marshal of one of Marion's premier events that showcases our vibrancy," said Dean Jacob, president and CEO of Marion Community Foundation.
#MarionMade #WeAreHonored