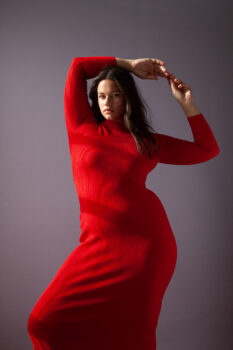 A Marion native's modeling career has taken off. Karah Katenkamp has graced billboard in Times Squares and national TV ads for Kohl's.
Katenkamp attended St. Mary's Catholic School through middle school. At just 14, she was scouted on the street in New York City while on a trip with her father. Her father was concerned this field would bring pressure for Karah to change who she was and develop unhealthy eating habits.
Katenkamp said that, while she admired models, "a career in modeling was not even on my radar; it was not a career I even considered."
Instead, Katenkamp earned college credit at Marion Technical College while attending River Valley High School. Those college classes enabled her to graduate from Miami University in three years. Her first job after college was with a fashion start-up in Cincinnati, not as a model, but as the firm's operations manager. She was scouted on the street again. A persistent agent kept calling until Katenkamp agreed to a meeting.
After a flood of offers, Katenkamp signed with JAG models in New York City.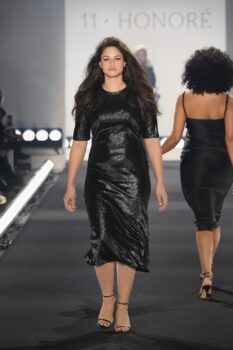 Katenkamp walked the runway at New York's Fashion Week for 11 Honore in the first all-plus size model show. By fashion industry standards, a plus size, or curve model as the classification is now called, is any model above a size zero.
"It was amazing walking in and seeing all these famous models whose careers I'd followed since I was a teen and be working with them," said Katenkamp.
She has worked for a number of major brands, including Old Navy, Lane Bryant, Gap, Kim Kardashian's Skims and Calvin Klein.
Aerie, a division of American Eagle, featured Katenkamp on a billboard in Times Square. Seeing her face on the giant electronic billboard was surreal.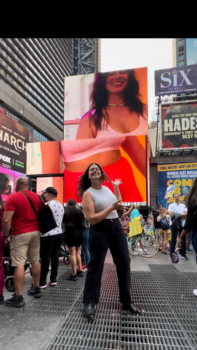 "I cried. I was shocked and I was grateful," Katenkamp said.
Her photo can also be seen on the front window of Aerie stores, including at Polaris Fashion Place.
Katenkamp credits her mom, Michelle Kinney, with instilling her with the self-confidence needed for this career. Kinney is proud that her daughter worked diligently to learn all aspects of the modeling world including business operations, photography and marketing. Katenkamp also owns a housing restoration company with her brother, Anthony Toops. They are remodeling two homes in Delaware, Ohio.
"This girl doesn't let much grass grow under her feet," Kinney said. "I think that's why she's been so successful and, actually, she's been told that by the modeling companies – that she has a great business sense."
Katenkamp also credits her success to Marion's 4-H program.
"The 4-H program was one of the most influential programs for me growing up in Marion," she said. "It helped build my confidence and taught me how to work with lots of different people, and how to stand up in front of people and not be nervous."
Katenkamp currently is represented by Next Models.
"Both Next and JAG are body inclusive agencies, who's work matches Karah's message of accepting yourself for who you are and what God gave you," said Kinney.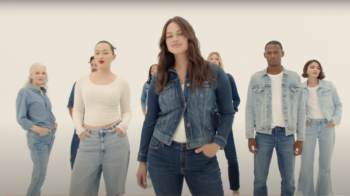 Modeling has taken her all over the world, including Denmark, Mexico and Canada. Katenkamp regularly works in New York, Los Angeles and Miami. She posts about her travels on Instagram (@karahkatenkamp).
Her husband, Jon Katenkamp, works for Johnson & Johnson. They have been able to move between New York and Los Angeles to accommodate both of their careers.
"I've loved New York from the first time I visited," Katenkamp said. "In New York, you can dream. You can be who you want to be."
She said modeling for Kohls was a kind of homecoming.
"Modeling for Kohl's felt like coming full circle," said Katenkamp. "Growing up, I used to shop at Kohl's in Marion; so, it really felt like coming home."
Katenkamp is truly MarionMade!