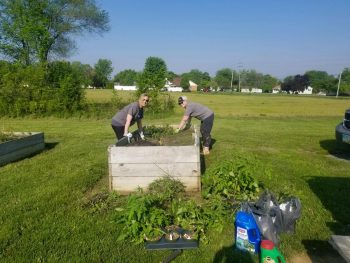 For nearly 30 years, the Marion Area Chamber of Commerce has been preparing new and future civic leaders for the Marion area—and those new leaders have been giving back to the community in very tangible ways.
The Leadership Marion! program was initiated in 1991 by a group of citizens concerned about the lack of new leadership in the community. Their core belief was that as Marion continued to grow and develop, there would be a need for a continuous pool of individuals to fill diverse leadership roles throughout the community. Since its inception, more than 400 individuals have participated in Leadership Marion!
Each class has taken on a community-wide project designed to improve some aspect of the Marion area. Most recently, those projects have ranged from improvements to the Edible Forest and Community Garden at Sawyer-Ludwig Park, The Taste of Marion restaurant showcase, and The Forge business accelerator program. Additional class projects have included Marion PEP Club and Youth Leadership Marion!, "Restore the Glory" at Lincoln Park, It's Time, Community Rally and Volunteer Fair, Tallgrass Trail 5K Run/Wall, Rediscover Marion, and Quarry Park Beautiful.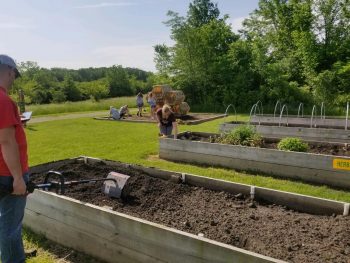 The most recent project was the restoration of the Edible Forest and Community Garden dedicated to Dan Stewart, the former board chairman of Marion Community Food Development, Inc. who was instrumental in starting the Edible Forest in 2017.  The Forest was developed to provide fresh fruits and vegetables to local residents, as the west side is considered a USDA food desert due to the area's limited access to healthy fresh food. Neighborhood residents are able to help themselves to vegetables from the community garden boxes and fruit trees.
Located on the north end of Sawyer-Ludwig Park, the Leadership Marion! project involved their "Dirty Hands Committee" living up to its name by cleaning the existing raised beds, adding additional fruit and nut bearing trees, planting new crops, trees and shrubs, installing benches, and improving signage and awareness. Like all Leadership Marion! class projects, the Edible Forest project is not a once-and-done effort. Leadership Marion! class members Sherod McGuire, Stacy Webb, and Kelly Makowski serve on the board of the garden, which is a 501(c)(3) non-profit. The group schedules two clean-up days each May and offers programs at other times of the year, including participating the upcoming Funday Sunday at Sawyer-Ludwig on July 28, 1-5 p.m.
Community-wide support makes this and other Leadership Marion! projects viable. Contributions to the Edible Forest project included benches made at MTC/North Central Correctional Complex, mulch donations from Park Enterprise Construction Company and ProScape Lawn & Landscape Services, volunteers from Marion Harding High School , POET Biorefining Marion and Ridgedale Girl Scout Troop #3501, and signage created by Lobo Awards & Graphix. Additional partners for the project included the Marion City Parks Department, Marion County Regional Planning Commission, and Evelyn Warr-Cummings.
Each participant in Leadership Marion! is sponsored by a local organization, typically the individuals' own employer. The diverse list of sponsors includes businesses, industries, educational institutions, health care providers, social service agencies, and government entities.
Leadership Marion! participants attend nine sessions, beginning in September and continuing with monthly day-long sessions through May. During this time, participants have the opportunity to develop and implement new leadership skills, as well as learn about the community of Marion. Topics include local history, educational issues, governmental structures, social service needs, economic development, EnVISIONing the 21st Century activities, and health care. Participants not only learn about these aspects of Marion, but have the opportunity to explore leadership possibilities and involvement. Presentations to the class are supplemented by tours and site visits. By the end of the program, participants have learned more than they ever imagined they could about their community.
The benefits of program participation are many. Participants develop leadership and management skills that are both personally and professionally beneficial, gain insight into the county of Marion, and prepare for rewarding and stimulating community leadership positions. For sponsors, benefits include being responsive to community needs and developing leadership potential in their employees.
Applications and information for the 2019/2020 Leadership Marion! class are now available from the Marion Area Chamber of Commerce by calling 740-382-2181.
#MarionMade #WeAreLeaders