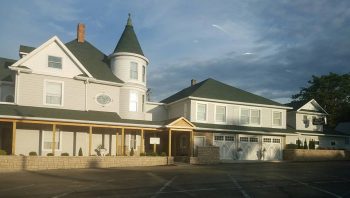 The year was 1927 when W.C. Boyd and John Uncapher had the vision of moving their furniture shop/funeral home from LaRue, Ohio, to the bustling town of Marion. "Posey," as Mr. Boyd was affectionately known, soon bought out his partner, retired the furniture business, and established what is known as the Boyd Funeral Home, Inc. His son, the late Phillip Boyd and his wife, continued to foster and grow the funeral business after Posey's death and added an ambulance service to the funeral services.
.
The funeral industry has changed over the years, and the ambulance service was eventually discontinued; but, the one thing that has remained constant is the professional, value-driven service that was started 90 years ago at 122 W. Columbia St. in Marion. The business has remained in the family since its beginning, and the fourth generation is now working to maintain that high quality of personal service that the Marion community has come to expect.
.
The Boyd-Born Funeral Home is continually seeking new ways to better serve the community. The 1st annual Service of Remembrance, held this past December at the funeral home, was a beautiful service to help those who have experienced the loss of a loved one through the holidays. The staff at Boyd's is always available to help those at their most vulnerable time. Their experienced pre-arrangement specialists are dedicated to providing information, planning, and funding to ease the emotional and financial burdens at the time of a loved one's death.
.
Renovations to this classic Victorian funeral home will be finished this year, complete with bathrooms for the physically challenged and a hospitality room for light refreshments. The beautiful new entryway will welcome you to the highest standard of professionalism in the funeral industry. Boyn-Born will host an open house upon the completion of this exciting renovation and have recently welcomed Alysse Morgason as the newest director on their staff.
.
#WeAreMarionMade #WeAreBoydBorn