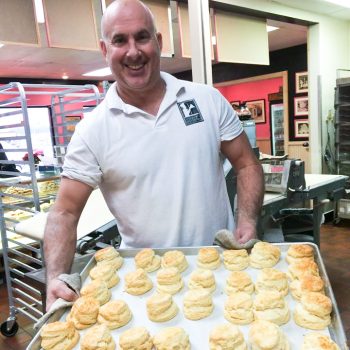 ANDREW SWARTZ & ANDREW'S PASTRIES.
.
Although he was born and raised in Cleveland, there is no doubt Andrew Swartz is MarionMade! It all began in 1982 when Andrew's father purchased the Arby's restaurant in Marion and moved his family here.
.
A fortuitous move for Andrew, as it enabled him to attend Tri-Rivers Career Center, where he graduated in 1984 from the Culinary Arts program. After a career that includes Cleveland, New York, North Carolina, and Washington D.C., Andrew was drawn back to Marion in 1995. His dream was to open a pastry shop in his adopted hometown. He did just that the following year in 1996.
.
More than two decades later, Andrew's Pastries is a fixture in Marion. Whether for an early morning breakfast pastry, custom made cake, or fresh cookies, Marionites and people from other communities find their way to his shop in the Servex Center on Delaware Avenue.
.
Two things stand out in the bakery.
.
Other than the delicious aroma, the bakery walls are filled with images from the past. Photos of bakers and bakeries from Marion's history is Andrew's way of honoring those who have gone before him–men and women who made tasty treats from scratch, something you can only find in a local bakery.
.
And, secondly, those pink boxes. While it would be great if there was a fascinating story behind the pink containers, such is not the case. Andrew explains that it simply was a matter of the box company sending the wrong color boxes. The uniqueness of the pink has become a status all itself. Or, as one Facebook reviewer exclaimed, "The pink box makes every day better!"
.
#MarionMade #WeAreAndrewsPastries