Kaitlin Rice is a life-long Marion resident. She lives in Marion with her husband and two children.
"This is home. I can't imagine living, working, or raising my family anywhere else!" Rice said.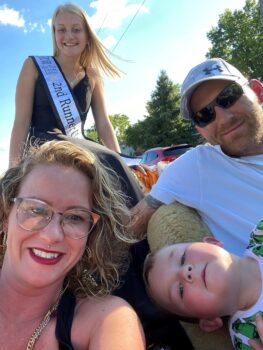 Rice graduated from Elgin Local High School and the Tri-Rivers Cosmetology Program.
"My older sister completed the program three years before me. I knew that it would be a great avenue to support myself through college," Rice said. "What I didn't know at the time was how passionate I would become. I love this industry, I love the relationships built with my clients, and I love guiding stylists and helping them grow."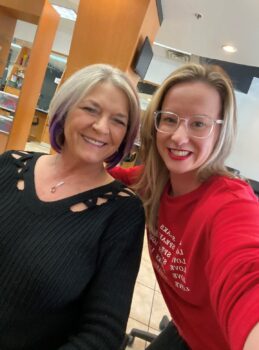 The Art of Style
Rice worked at the Art of Style at 1713 Marion Mt. Gilead Rd. Suite 104 in Marion for five years as a stylist and assistant manager before buying it in March 2020.
"It feels amazing to know that I didn't need to leave Marion to reach my goals or potential. I had access to a lot of opportunity that I think is often overlooked in our little town," Rice said.
Unfortunately, the timing with the COVID-19 pandemic couldn't have been worse.
"Starting my ownership journey at the very beginning of COVID was stressful. It threatened to bury the business before I had a chance to see what I was capable of. Now I use it as a mantra: if we can make it through that, we can make it through anything!" Rice said.
The Art of Style has been operating in Mallard Landing for 15 years. Beauticians are employees, not independent contractors, who work as a team.
"We are one of the last privately-owned, community-style salons as many operators have switched to booth and private suite," Rice said. "We hope to foster a modern version of old-school beauty shops where patrons can interact with staff and other clients while we provide excellent, skilled service."
The customer is at the core of their business.
"I take most pride in our customer care. We want the experience to be amazing from start to finish and we develop great relationships with our returning clients," Rice said.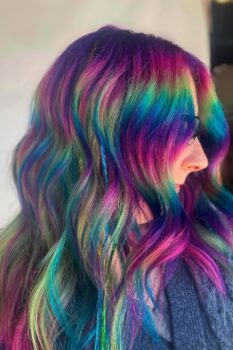 Client Reviews
"Kaitlin is the best! She knows what she is doing and how to make everyone look their best!" said Marion native Tammy Ball.
Ball moved to Cincinnati and still drives to Marion for hair appointments.
"When I say she is the best, I really mean it! I won't let anyone else do my hair," Ball said.
"I've been going here for about 15 years and Dee Dee Page has always done a great job," said Lawrence Dudley.
"Dee Dee does my hair as well as my daughter's. She is awesome!" said Angela Whitaker of Marion.
Community Supports Local Businesses
While the stylists focus on their clients, Rice appreciates the work many in the community are doing to highlight Marion's strengths.
"I think there is a great network of people working very hard to restore vibrance to our community," Rice said.
Rice encourages everyone to shop local.
"It can be tough to own or run a small business for anyone, especially in our economic climate. We have struggled with consistent supply chain issues and rising costs at every turn," Rice said. "It's important to understand that your local entrepreneurs are not in it to get rich. There is a greater purpose to be self-sufficient, have just enough to raise our families and be contributing members of our community."
Rice also gives back. She serves on the Advisory Board for Tri-Rivers Cosmetology Program and is a member of the Marion Area Chamber of Commerce. Rice is also hiring.
"We always have our eyes out for talented stylists who think a community-style salon atmosphere would be a good fit for them," Rice said.
Hours and Contact Info
Hours: The Art of Style is open Wednesday through Sunday. Appointments are preferred, though they do accept walk-ins. They serve men and women of all ages, from a child's first hair cut to senior citizens.
Address: 1713 Marion Mount Gilead Rd Suite 104, Marion, OH 43302
Phone: (740) 386-2020
Website: www.aosmarion.com
Facebook: The Art of Style Hair Studio | Marion OH | Facebook
Instagram: The Art of Style Hair Studio on Instagram • Photos and videos