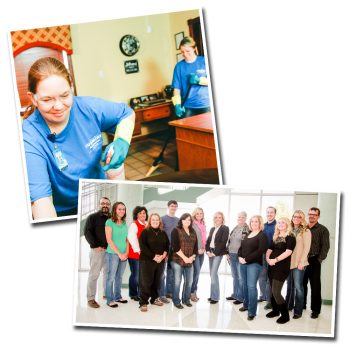 CUMMINS FACILITY SERVICES: CLEANING UP LIFE'S MESSES.
Cummins Facility Services (CFS) has been part of the fabric of the Marion business community since 1972, when Ron and Myra Cummins got their start providing janitorial services to local area businesses. Forty-five years later and CFS still calls Marion home; but, under the leadership of Ron and Myra's daughter, Jill Frey, it has grown into a full-service facility service management company, providing janitorial services as well as state-of-the-art disinfecting services and other services, based on the needs of the client. Today, CFS has 500 employees, operates in 16 states and Mexico, and services over 200 million square feet.
Community involvement is a cornerstone of CFS, and being a company led by females, their efforts have typically focused on organizations and activities that support women and children in the local community and across the world. Adopting local families in need during the Christmas season and employees, along with their families, hand deliver an entire Christmas to these families, including trees, food, clothes, coats and toys. As a team, they run one 5K per month as part of their wellness program and serve as sponsors for many local charity events.
They are proud to be involved with The Leader in Me program at William McKinley Elementary School and by bringing the Ruling Our Experiences (ROX) program to Pleasant Middle School, they are helping to provide empowerment programming that helps girls develop skills to deal with issues like bullying, body image, dealing with sexual harassment and violence, and leadership development.
Grateful to the fellow business leaders, teachers and mentors who have supported her through the years, Frey is proud that Cummins Facility Services is MarionMade! and committed to supporting the growth and development of this great community.
#WeAreMarionMade! #WeAreGiving #WeAreCleaningUp