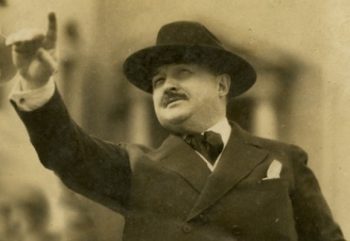 JOHN EBERSON: DESIGNER OF THE PALACE THEATRE.
 .
Thousands of our MarionMade! boys and girls over the last 79 years would have no concept of what 'Stage Right' or 'Break a Leg' meant if it wasn't for the efforts of John Eberson. This brilliant gentleman designed our own Palace Theatre in downtown Marion during the 1920's.
 .
John Eberson was born in present day Ukraine in 1875 and studied electrical engineering at the University of Vienna. In 1901, he immigrated to the United States. Within a few years after coming to the United States, he became affiliated with the Johnson Realty & Construction Company, a theatre architecture and construction company. Eberson traveled throughout the eastern United States promoting opera houses in small towns. In 1904, he moved to Hamilton Ohio, where his first theatre, the Hamilton Jewel, was located.
 .
Most of Eberson's theatres were in one of three styles: Atmospheric, Art Deco and Streamline Moderne. The Palace Theatre in Marion represents the Atmospheric style. This style strives to transport visitors to an exotic European courtyard or garden. Sadly, only sixteen of these Eberson's Atmospheric theatres remain in operation today.
 .
In all, John Eberson designed close to 100 theatres located in small towns in dozens of states including: Tulsa,OK; Terre Haute, IN; Wichita, KS and of course Marion, just to name a few.
 .
Since 1928, Eberson's design of the Palace Theatre has delighted the people of Marion and brought entertainment and culture to our town by giving many of our Marion Made residents countless performances and the opportunity to shine as entertainers. Eberson's design of the Marion Palace Theatre is truly Marion Made and will be sure to bring entertainment and creative outlets to our residents for generations to come.
 .
#MarionMade #WeAreTheatre #WeAreHistory