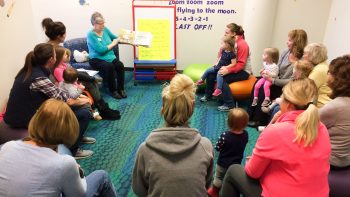 MULTIPLE GENERATIONS LOVE STORYTIME AT THE LIBRARY
Marion Public Library (MPL) Storytimes are MarionMade! Hundreds of Marion children have grown up making memories during Storytimes at the Library. Now many of those same children are bringing their children and/or grandchildren back to enjoy a similar fun-filled learning experience. MPL is proud to host Storytimes–sharing books and ideas to get kids ready to read, even from birth.
Though not new to the Library; but, new to leading Storytimes, Kathy Stroupe is familiar with creating a nurturing learning environment. Kathy has more than 30 years of experience in education and has worked at the Library for 17 years. Her recent addition to the Storytimes program has many mothers coming to Monday Baby Times, pleasantly surprised to find their former teacher now leading them in literacy activities for their own children. The Library is very proud of the variety and depth of experience of their staff.