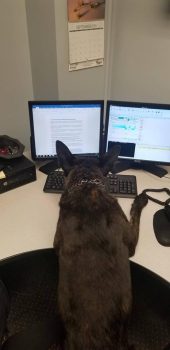 During the month of October we are highlighting information about the K9 units of Marion County. The dogs are trained to conduct building and large area searches for hidden criminals, tracking lost persons and criminals, article/evidence searches, and narcotics detection.
Though this is a light-hearted interview — asking questions as if the dogs have voices — they are valued personnel to the police department and community.   We thank them and their partners for their service and time given to protect the people of Marion County. 
Can you tell us what your name meanings and how you got this name.
My partner changed my name when I came here. I don't want talk about what it was before, it was kinda weird for a guy from France, but I really like Six. Our community donated money to bring me here and the first group to step up and make a large donation was the Brandy Winfield Memorial Poker Run. Brandy was a Marion County Deputy who was killed in the line of duty in 2004. I never knew Brandy, but my partner did and got to work with him, his father Rick, and his brother Cory. I get to spend time with Brandy's family sometimes and they're some of my favorite people. His son Landon even cleans my cruiser for me… I get it a little dirty. The second group to step up and make a large donation was the Harold Bradley American Legion Post 584. The members of the Legion wanted me here to help fight the drug problem in our city and donated the final part of the money to get me here. They also partnered with my vet to buy me a very nice bullet resistant vest to protect me. So, how I got my name? Brandy's unit number at the Sheriff's Office was 5106. The American Legion is a veteran's organization and watching someone's six is a military term for watching their back. I was brought to Marion during a time when the police department had layoffs and we didn't have very many officers. The Chief at the time, Tom Bell, said it was important for me to be here to help the officers and watch my partner's back. When I was finally purchased, my partner thought changing my name to Six was a way to honor and say thank you to Brandy, his family, and the members of the Harold Bradley American Legion Post 584. I try to live up to my name every day. I always watch my partners back, all the other guys and gals I work with and our community.
What kind of dog are you? Before coming to Marion County, where did you live?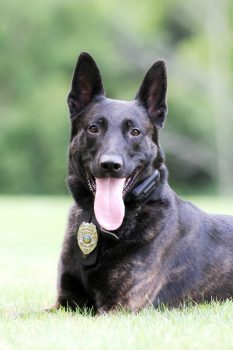 I am a Dutch Shepherd, not a small German Shepherd! I was born in France and I started my training there. I was brought to America by Storm Dog Tactical in Sunbury, Ohio, after my partner picked me out. I even have a passport. Storm Dog Tactical is where I started training to be a police K9 and we still train there all the time. We have a great group of trainers and friends we train with. I speak French, but I learned some English after moving here.
You have a partner- Lt. Mark Elliott. What are his best characteristics? How long have you worked together?
My partner and I started training together in October 2013. We hit the streets of Marion in November 2013. I can still remember our first use. The state patrol requested us on 23 for a vehicle sniff. I found some stuff in the car. His best characteristic? I think he really likes me, we work really well together, and I really like him. We spend a lot of time together at work, at training, and at home. He takes me all over to help make me better. He also knows I'm the brains of the team and he stays out of my way most of the time.
What is your best skill at work?
I think that depends on who you ask. I think I'm the world's best bad guy biter, but I don't do that very often. My partner thinks I'm pretty good at finding drugs, that's what we do most of the time. If you ask some of the guys I work with they would probably tell you I'm pretty good at tracking bad guys when they run and hide… I've found a few. If you ask other people in the community they would probably tell you I'm really good at going to public events and hanging out with people. I would have to admit that's probably my favorite thing to do. I really like all the attention and getting my picture taken with all my friends. I like to work hard at all these things to make a difference in Marion and try to pay the community back for bringing me here.
At your time off what is your favorite thing to do? Do you have a favorite toy?
I love to hang out with my family; but, if I could, I would be at work with my partner all the time. I admit I'm spoiled and I have a lot of toys. My family buys me toys, friends buy me toys, people drop stuff off at the police department for me all the time. My favorite toy in the whole world is a tennis ball! I only get those at work and when I'm out meeting people at public events so I get really excited when I see one. I pop tennis balls pretty fast so I go through a lot of them. When I'm at home or off duty I like Kong toys and other toys that are hard to chew and break. I bite really hard and most of my toys don't last very long.
If you could tell the people of Marion anything, what would you want to say?
THANK YOU. Thank you for bringing me here, thank you for always supporting me, all K-9's in the City and County, and your law enforcement. I get to do a lot of really neat things with my partner because of the support we get from our department and our community. We get to train with some other department.
#marionmade  #WeAreMarionOhioPolice