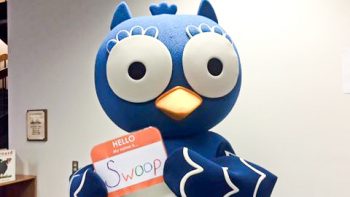 SWOOP CAPTURES HEARTS OF YOUNGSTERS
Since hatching early last year, Swoop has captured the hearts of youngsters and adults alike in Marion County.
For those who may not be familiar, Swoop, created by Dan and Lyn Giles of ProMo Costumes, is the name of a large blue owl who happens to be the mascot of the Marion Public Library.
Since Swoop's first appearance at the unveiling of a totally revamped Kids Area in January of 2016, the Library has used Swoop to connect with children in the community and it has certainly paid off.
The community was even involved in naming the owl, with over 400 suggestions submitted in a city and county wide naming contest.
While Swoop may be seen at events throughout the year, none were quite as special as the mascot's most recent event: Swoop's first birthday celebration. The Library invited the community to help celebrate the special day. More than 150 fans stopped in for cake, cookies, and birthday games.
A number of local mascot friends were also on hand to help Swoop celebrate. Most importantly, lots of kids had a really fun time in their own Library space and bonded with a reading role model. Locally made Swoop is expected to play a key role in developing the next generation of #MarionMade readers for years to come.