Kasotis Family
George Kasotis was a world traveler before he was born. His mother, Theodora "Dory" Kasotis, came through Ellis Island while pregnant with him. His father, James "Jim" George Kasotis, immigrated from Greece. He worked building railroad tracks to the Pillsbury Plant in Martel before serving in World War I.
James survived an attack with mustard gas in the Argonne Forest. He spent years recuperating at the Veterans Hospital in Chillicothe.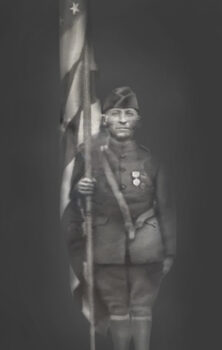 "The only medicine he had was Vicks Vapor Rub," George recalled.
George remembers bringing his father Vicks mixed into steaming water to help him breathe every morning at their home in Caledonia, where George was born. Jim repaired shoes. Dory sold beer and sandwiches.  Local farmers sat on wooden beer crates around the coal stove.
Kasotis Family Moves to Marion
After Jim died in 1941, the family moved to Marion. Dory opened a restaurant to support her two children. For 20 years, the Crest Restaurant at 131 South Main Street served her favorite recipes including Greek salad, dressing, and baklava.
"Mom was an excellent cook. She learned to cook from her mother, aunts, and older sisters in the old country," George said.
George remembers having Miss America Marilyn Meseke give him and Martha Douce a dance lesson at age 10.
Kasotis Played Football for Marion Harding High School 
Later, George played football at Harding. They were playing an undefeated Columbus team fielding future Heisman winner Howard "Hopalong" Cassidy. Harding took the lead. Columbus Central went for a field goal to try to win the game. Jack Bull crouched down and George jumped off his back and blocked the kick. Harding beat Columbus Central 7-6 in 1951.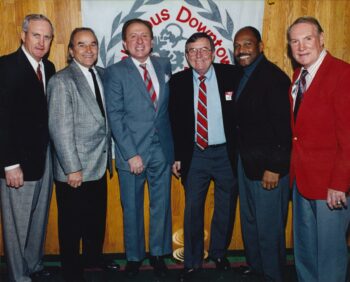 Korean Conflict
George enrolled at The Ohio State University and dressed for the football team, but was drafted to fight in Korea. He was 50 miles north of Seoul on the Imjin River. He and another officer were connecting pontoons to make a bridge when a monsoon hit. It knocked George downriver. He hit a land mine with his leg. Officers on a ridge sent a medical helicopter to pull him out.
"They saved my life," George said.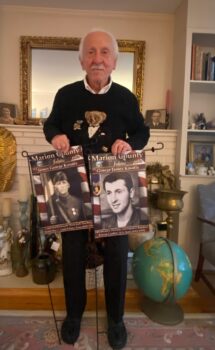 George was treated at a MASH field hospital and then a hospital in Tokyo. He was given a week of leave. His mother had given him several $50 bills to buy his freedom if he were captured. George used them to check into the Imperial Hotel, where he had drinks with Marilyn Monroe and Joe DiMaggio. The newlyweds were in Tokyo for an exhibition game with the Tokyo All-Stars.
Family Business Changes Hands
After the war, George came home to help his mother in the restaurant. After she retired, he renamed it Café George. Later, he added a bar and rebranded it the Keg and Vine. He ran it with the help of his trusted staff, Jerry and Mary Smith.
"It was the hit of Marion in the '60s, '70s, and '80s," George recalled. "It was named the Marion Community Theatre's place to have cast parties."
George Meets His Wife
While performing at the Marion Palace Theatre, George met the woman he would later marry. Joan Amstutz moved to Marion in 1972 to teach at Marion City Schools. George made her a romantic dinner to propose, but it took her six years to accept.
"I wanted to be sure," Joan Kasotis said.
They married in 1983. They had three ceremonies: a private one on Sept. 10, the date of Joan's parents' anniversary; another at the Women's Club Home with a large reception; and a traditional ceremony at a Greek Orthodox Church.
"I've been married three times – all to the same woman!" George laughed.
Now married for nearly 40 years, they have one son, Kris.
"I've enjoyed my life here!" George declared.
George Thrives in Retirement
At age 90, George volunteers at Primrose Retirement Community, where he tells stories, dances, sings, and gets residents tapping their toes.
"I like doing it. It keeps me active!" George said.
George enjoys looking back at Marion's rich history as well as at the future.
"I'm impressed at all the new businesses and restaurants downtown," George said. "Marion is thriving! Hallelujah!"