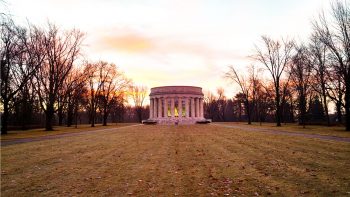 HARDING MEMORIAL CONTINUES TO CAPTIVATE AFTER NEARLY A CENTURY
Marionites all know that special location for photos. Among the many attractive backdrops in Marion, the Harding Memorial is one of the popular places to make photographic memories. Although the Memorial provides the ability to capture those proud moments in time, it conveys a most endearing story that we subconsciously want to emulate.
The Harding Memorial is a national landmark and was the last of the elaborate presidential tombs built.  Designers Henry Hornbostel and Eric F. Wood captured the essence of President Warren G. Harding and wife Florence's pride, sentiments and support for the place they called home within the white marble monument. This was the leading reason behind the decision to build the monument and lay President Harding to rest in Marion.
The memorial's most notable feature, its white marble colonnade and 46 impressive Doric columns, will take your breath away at first glance. Florence helped pick out the 10 acre site just south of the city because she wanted an elegant entrance to Marion on the main road travelers used in the 1920's.
More noticeably, you will find the Memorial has an open terrace of greenery and a garden carpet inside the cloister–or covered walk–to grant the late president's wishes for him and his wife to be laid to rest under a tree and the stars. Each granite marker is adorned with a bronze wreath–palm leaves for President Harding and roses for Florence.
If you get the chance to walk within the cloister within the gates, you will be blanketed with coolness from the stone giving you a sense of peace and serenity. In turn, this awareness spotlights Warren, not only as the 29th President of the United States, but more-so his genuine adoration and advocacy to Marion.
What an honor it is to be one of the exclusive communities in the country that a president called home. The next time you take a stroll up the path to pay your respects, whether it's during one of the public dedications that take place each year such as the annual Scout Pilgrimage, or on your special day, take pride in knowing the Harding Memorial is the largest presidential memorial outside of Washington D.C.