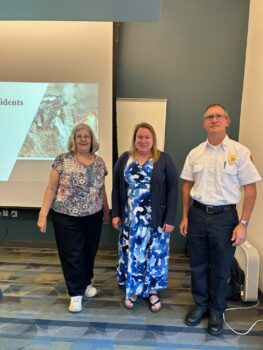 If a hazardous materials leak like East Palestine happened in Marion, would local responders be ready?  The League of Women Voters of Marion invited Assistant Chief Paul Glosser of the Marion Fire Department and Sarah McNamee, Director of the Marion County Office of Emergency Management, to speak to residents at a public forum hosted by Marion Technical College.
"We take an oath to protect and serve you. You're our neighbors," McNamee said. "We have a 130-page county plan for hazmat spills. We have thought through almost every consideration."
They work with other county, state and federal agencies to learn from each event. All emergencies are managed by local responders, though McNamee can request help from other counties and state agencies.
"It's our job to figure it out. So far, there hasn't been one we haven't been able to figure out." McNamee said.
Assistant Chief Glosser assesses the scene and decides how to respond. McNamee locates and coordinates the resources needed. The top priority is protecting residents.
"Our job is to keep you safe. If we ask you to evacuate, we have a very specific reason," McNamee said. "Please give us the benefit of the doubt. It takes a lot of time and energy to go door-to-door."
Hazmat Risks from Trains
Forty trains come through Marion County each day and 6% of them transport hazardous materials. Glosser and McNamee receive an annual report listing the most common chemicals shipped through Marion. In the wake of East Palestine, McNamee and other county EMA directors requested quarterly reports.
Local Acid Spill – May 2023
Spills can happen without a derailment. On May 2, 2023, a series of mechanical failures caused a train car to leak 5,613 of phosphoric acid at the corner of Scranton and Milburn Avenues.
CSX identified the leak and called 911. Glosser and McNamee responded. Two homes were evacuated. One resident sheltered in place.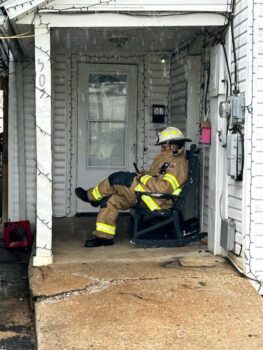 "Luckily, the winds were low that night. It was cool and damp which reduced the risk to first responders and to the community," Glosser said.
Local Response
Two firefighters donned protective equipment and breathing apparatus to evaluate the situation. A specially-trained railroad employee arrived with additional tools equipment to stop the leak.
"His suit actually snagged on a piece of metal and he was burned. We treated him at the scene and sent him to the hospital. Then he came back to finish the job. He was very dedicated," Glosser said. "He stopped the leak in two hours and 31 minutes."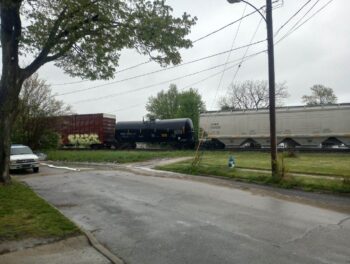 Community Travel Considerations
As it was Election Day, McNamee fielded calls making sure voters could get to the polls and children could get to school despite the stopped train blocking roads.
Quick Response
The fire department used sand to block the acid from entering the storm drains. The evacuation order was lifted in 12 hours. The cleanup took ten days. The Ohio EPA came out to test the air, soil and water.
"Environmentally, it was a win," Glosser said.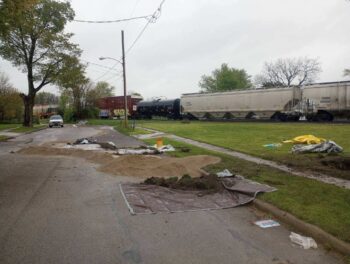 "Paul and his team did an amazing job. As a community, we don't appreciate all they do – all the training and preparation in case something like this happens," said McNamee. "They are our guardian angels, along with law enforcement and dispatchers."
The railroad company reimburses local responders for expenses and repairs local damage.
Local Residents React to Forum
After the presentation, several residents expressed confidence in these local leaders.
"Sarah was outstanding. She's informative and organized. I never realized how well taken care of we are here in Marion. It's more than a job- it's a calling," said Carol Kelly of Pleasant Township. "They are very professional and well-trained."
"Now I have a better idea of what you are doing, what has to be done and the enormous task they've undertaken," said Mary Donaldson of Caledonia.
How to Sign Up for Emergency Alerts
Residents can sign up for Hyper-Reach local emergency alerts on the Marion County Sheriff's website.
Upcoming Solar Eclipse Emergency Plan
McNamee will discuss preparations for the April 8, 2024 solar eclipse as a part of the Marion Public Library's Adult Lifelong Learning classes on Nov. 2, 2023 at 2 p.m.
MarionMade! is a program of Marion Technical College.