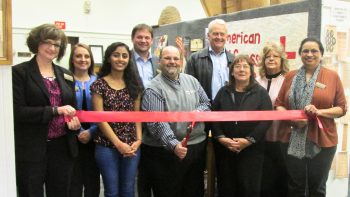 THE AMERICAN RED CROSS
The Marion County Historical Society is celebrating a century of local American Red Cross service with a special display in the Museum at Heritage Hall. Red Cross memorabilia and historical items will be on display throughout the summer at the Museum located at 169 E. Church St. in Marion. The exhibit opened on Wednesday, May 3, with a Ribbon Cutting by the Marion Area Chamber Ambassadors.
"We are excited to share these pieces of Red Cross history with the community," said Todd James, Executive Director of the North Central Ohio Chapter. "There's a good chance someone will recognize a family member or friend who volunteered for the Red Cross in the past and we hope they share stories about their own Red Cross experiences."
James said putting up the display brought the past and future of the Red Cross together. "Members of our River Valley High School Red Cross Club assembled the display. These young volunteers are the future of the Red Cross and are already taking a vital part in our service to the community and it was educational for them to see all this Red Cross history," said James. "It gives them a true sense of what they are a part of as Red Cross volunteers." Red Cross Club members Paayal Vora, Brenna Dawson, Emilie Mitchell, Kajal Desai, Patrick Ravi and Phillip Stump were responsible for putting the display together, aided by Red Cross Youth Services adult advisor Sue Loyer.
Museum Director Gale Martin says the Red Cross Centennial display fits perfectly with the Society's new exhibit, The German-American Experience: 1820 to 1920. "In 1917, the effect of World War I had a great impact on the German-American communities in Marion County. The Red Cross's role in Marion during that time, providing support to thousands of soldiers as they passed through Marion on their way to the battlefields, is a large part of our local history," said Martin. "We are thrilled to be able to tell the story of our local Red Cross as part of our exhibit."
The display at the museum is part of the chapter's Centennial Celebration. In 1917, hundreds of local American Red Cross chapters were formed across the country during the height of World War I. In 2017, the North Central Ohio Chapter of the Red Cross is celebrating a Century of Service to communities in Hancock, Hardin, Crawford, Marion, Morrow, Seneca, Wyandot and Union Counties.
"Throughout the year, the Red Cross will hold special programs and events to celebrate the Centennial, focusing on the services they provide," said James. "We will be holding Centennial blood drives, large scale Citizen CPR trainings, special exhibits of Red Cross historical items, interactive exhibits for kids and a lot more."
#MarionMade #WeAreService #WeAreHistory