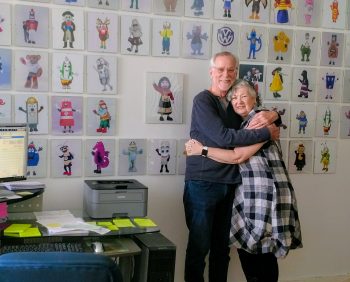 What began as a very small enterprise in a spare bedroom of their home 22 years ago has grown into one of the leading mascot design and production facilities in the country. Lyn and Dan Giles' ProMo Costumes is a hidden gem in downtown Marion.
ProMo is at home on West Center Street in a 100-year-old former furniture company building, creating mascots and promotional costumes for clients around the world and in their own backyard. ProMo Costumes offers a full line of custom character costumes, mascot costumes, puppets, costume accessories, and custom plush toys.
"Over the years, we have been privileged to make custom costumes, mascots, and puppets for many organizations and businesses such as Microsoft, T-Mobile, Nestles, United Healthcare, Wendys, PBS, Office Max, Dannon, McDonald's, Pokemon USA, Exxon Mobile, New Balance, Liberty Tax Service, and Williams Sonoma," said Lyn, the company's president, and artistic director.
Local companies and organizations such as Kingston Residences, the Marion Public Library, Buffalo Wild Wings, and MarionMade all have utilized ProMo's talents.
"Knowing the impact and power of mascots in a community," said Lyn, "ProMo Costumes was excited to design and create the MarionMade mascot as another one of our community service projects."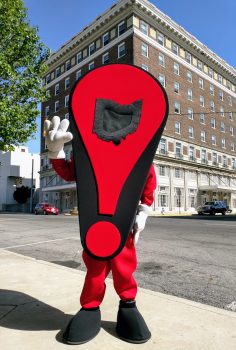 "In celebration of National Punctuation Day (Sept. 24), it is especially appropriate that we make a point of thanking ProMo Costumes for turning the exclamation mark of the MarionMade! logo into a larger-than-life mascot," said Dean Jacob of Marion Community Foundation. A naming contest for the mascot is being planned.
The Giles have both been actively involved in Downtown Marion over the last 20 years and are very happy to see the present influx of new businesses coming to their neighborhood.
Dan is originally from Marion, and Lyn was born in England. After they met, they decided to move to Marion to raise their son. Taking advantage of the numerous opportunities locally, they purchased what they consider to be the perfect building in the LoDo section of Downtown Marion for their enterprise.  Now ProMo Costumes occupies the lower three floors of their building, leaving them the entire fourth floor as an open loft.
"We have a wondrous view of downtown Marion and splendid views of each sunset," said Dan.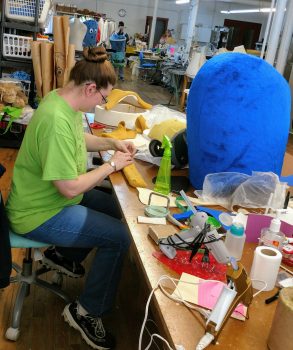 From this little-known, but perfect–according to the Giles—location, comes tons of talent and creativity in the production of ProMo's mascots and costumes. Crowds have been educated, comforted, and amused by the mascots created by ProMo's talented crew of 10 employees.  The management staff, in addition to Lyn and Dan, includes their son, Adam, as sales manager.
Schools–from elementary to Division I–have cheered, foundations and non-profits have promoted their causes, and small companies to large Fortune 500 corporations have used ProMo's mascot creations to promote their products and services. ProMo has shipped its larger-than-life creations to countries around the world.
"All of our customers are important to us as we work to bring their characters to life, from the small-town restaurants and elementary schools to the biggest corporations," said Lyn. "We treat each of our customers with the greatest respect and their projects with the same attention to detail, absolutely the highest quality workmanship, and just plain awesome customer service."