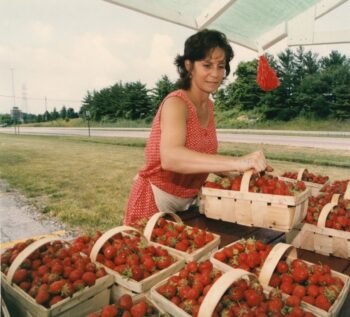 Generations of Marion residents have fond memories of annual trips to Crum's Farm to pick fresh, red, ripe strawberries.
"I remember going there with my mom to pick strawberries. [It was the] best time ever and the strawberries tasted so good!" said Sheila Thomas.
"Our annual St. Mary kindergarten field trip to Crum's was a favorite!" recalled Carol Bruch Spare.
"I lived right down the road and picked berries every year," recalled Debbie Albright.

"One time the berries were so big that I picked two 4-quart baskets and was back home in half an hour!" remembered Cynthia Byrnes.

Many children and adults were so tempted by the delicious fruit, the strawberries never made it into the baskets, as shown by sticky faces and red-stained fingers.
Crum Family Roots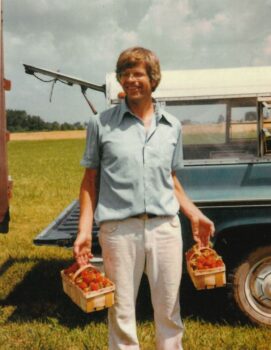 The annual tradition started with local farmer Howard Crum. He and his wife, Carol (Laucher) Crum, grew up on farms in Marion County. Carol grew up on a dairy farm. Howard's father, Edward Crum, raised hogs, cattle and grain on 150 acres on Marion Edison, three miles east of Marion.

They graduated from Claridon High School and married. Carol earned her nursing degree from Mt. Carmel while Howard graduated from The Ohio State University. After attending college in Columbus, the couple returned home to Marion. Howard Crum wanted to follow in his father's footsteps.

"I always wanted to farm. There wasn't any doubt about that. I had the opportunity because of my dad's hard work," Crum said.
New Crop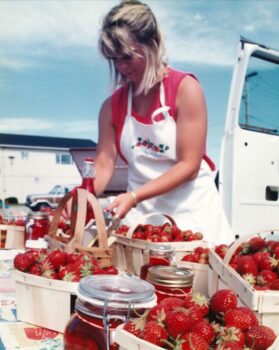 When the first strawberry crop was ready to harvest in June 1975, locals eagerly lined up to pick their fresh fruit.
In addition to the strawberries, they had 30 acres of sweet corn they picked by hand.
"We started picking the earliest sweet corn in July and never missed a day of picking until it froze in October," Crum said. "We were very busy!"
"I miss their sweet corn!" said Mary K. Bickley of Marion.
Crum Hires Local Workers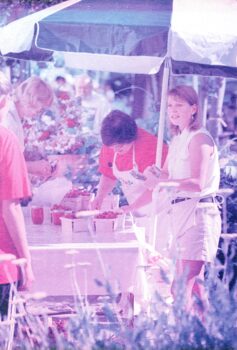 The Crums have three daughters: Cris, Cathy and Carrie. They worked on the farm. The family depended on Ed and Stela Cavazos Jr., who worked for the Crums for 30 years. Many local teenagers remember getting their first jobs picking strawberries. It required loud alarm clocks for the early shifts.
"I worked there in the summer of 2003. I was 16," said Lauren Flowers.
"I would get up at 3 a.m. and work until 10 a.m."

"It was a lot of work and we had a lot of help. All of the people who would work for us felt like family. They were just exceptional," Crum said. "We paid for the farm and put the kids through college. It was a real joy to raise the crops!"
In the 1980s, the Crums added wagons to sell the fresh produce in Marion. It was so popular, they added locations in Bucyrus, Delaware and Mansfield. In 1990, Crum was one of the original farmers to start the Worthington Farmers Market. They expanded to many other farmers' markets in Licking and Franklin Counties.
After working the soil for 45 years, as well as driving a bus for River Valley Local Schools, Howard Crum retired in 2019, though he still farms beans. He and Carol will celebrate their 60th wedding anniversary this September. In addition to their three daughters, the couple has one granddaughter, six grandsons, one great-grandson and five great-granddaughters.

These salt-of-the earth people have inspired many people with their kindness, their work ethic and what they have contributed to Marion.

"It has been a labor of love for them," said daughter Carrie Crum Block.

"I don't think I've met a sweeter or more caring individual than Grandma Crum!" said family friend Shannon Sanderlin.