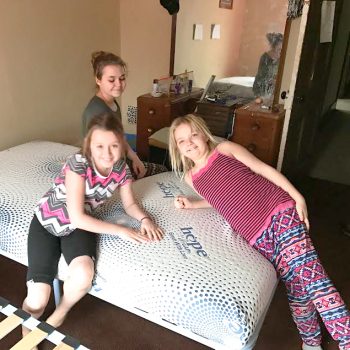 THE ASHLEY HOMESTORE.
.
Ashley HomeStore of Marion, Ohio, is family-owned and -operated. It is part of the Central Ohio-based Ashely HomeStores owned and operated by brothers, David and Ben Monnin. They also own and operate Ashley Hometores in Bellefontaine and Mansfield, Ohio. Their family has been in the furniture business since 1945. The Bellefontaine store opened in 1989, Marion in 1999, and Mansfield in 2008.
 .
The Monnin Ashley HomeStore vision and mission is–Be the Difference. Owners, managers and staff live by these words every day. Each day the focus is on how staff can "be the difference" for all those around them! The purpose of the Monnin Ashley HomeStores is to serve the needs of their customers, while also being good stewards in the community.
.
The efforts of the Monnin Ashley HomeStores focus on many community events and fundraisers they get involved in; however, there are two main focuses of their efforts: local veterans and local children in need. Every day, all three Monnin Ashley HomeStores honor and celebrate veterans that come into their store. Veterans have their picture taken for the store's Wall of Honor, get a challenge coin, and get registered for the annual Veteran Celebration that happens in the fall around Veterans Day. All that is with no obligation or purchase required. There are also special discounts year-round for veterans.
.
The Monnin Ashley HomeStores "Hope to Dream" program provides free beds to local children that do not have a bed to sleep in. There is an application process for referrals of children in need. Once those applications are received beds are delivered free to children that meet the criteria.
.
The local HomeStores appreciate the community supporting them for the nearly 30 years they have been in the community.
.
#MarionMade #WeAreAshleyHomeStore