A family-owned coffee shop serves up delicious treats and smiles in downtown Marion.
"We started the Remnant coming out of the confined atmosphere of COVID-19. We saw a need for a meeting place where people could gather together and realize they are not alone," said Riffe. "We originally only needed the kitchen for The Board Bee charcuterie. We began brainstorming and settled on a coffee shop to cultivate the fellowship atmosphere that was missing in Marion due to COVID-19."
The Owners
Jamie Riffe and her daughter and partner, Abigail Jordan, were both born at Marion General Hospital and raised here.
"We are true Marionites!" Abigail said.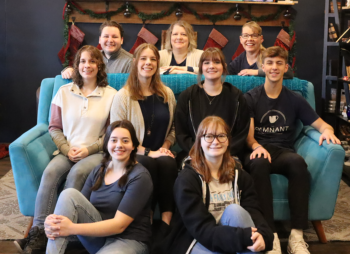 Jamie Steffey graduated from Ridgedale in 1997 and earned her real estate license. She married her high school sweetheart, Brian Riffe. They have been together for 30 years.
The Riffes have four children. The oldest, Abigail Jordan, 23, co-owns the Remnant and The Board Bee.  Miriam, 21, and Hannah, 18, both help run The Remnant. Their youngest is Holden, age 6.
"He isn't old enough to help in the family businesses, though he still refers to the coffee shop as 'his,'" Jamie jokes.
Abigail was homeschooled. She earned a bachelor's degree from Ohio Christian University and a master's degree from Liberty University. She met her husband, Jeffrey Jordan, in college. They married shortly after opening the Remnant in 2021. Jeffrey manages the Board Bee. Miriam is married to Officer Matthew Mauldin with the Marion Police Department.
The Coffee Shop
The Remnant Tea & Coffee Shop, located at 123 W. Church Street, serves coffee, tea, juices, pastries, breakfast sandwiches and the Board Bee's charcuterie.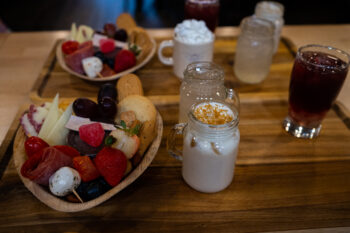 "Our most popular drinks are our lattes and boba drinks. The sweet bacon is a must-try from our sandwich menu!" Jamie exclaims.
Local Retail Items
All of their items, from the menu to a small retail section, are locally sourced.
"We are proud to offer products from over ten local Marion partners. Our other partners can be found within Ohio. We partner with people specializing in bread, pastries, candies, honey, charcuterie boards, tea, jewelry, knit crafts, soaps, and more!" Abigail says.
"We want to be a blessing and an outlet for our local partners who are passionate about what they do," Jamie adds.
The Difference
They focus on providing exemplary customer service.
"We thrive because of our customers and the relationships we build with them. Each one is a friend that we call by name," Jamie says. "Our main goal is a relaxing atmosphere where you feel comfortable sitting and chatting with friends."
The key to their success is their staff.
"We are most proud of our staff, which is our second family, and our customers, which is our third family! We are not acting when we ask about your day and when we call you by name. We hope everyone senses the genuine joy we hold when someone walks through our door," Jamie says.
Customers agree.
"Hands down best coffee shop in Marion. Great food, too. And the best service and atmosphere," said Pastor Dan Owings.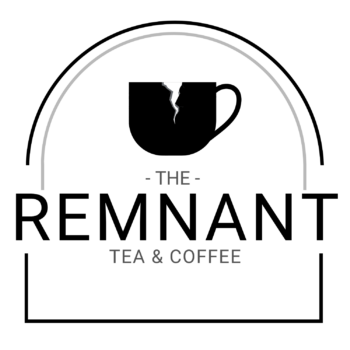 Jamie says the support from the community has helped the business thrive.
"We succeed because of the unending love and support we receive from our fellow business people and our loyal customers! There has been nothing but encouragement and growth from everyone and we owe it to them!" Jamie says.
The Future
The business has been so successful, they are moving to the Relic (previously the Charleston Place) where they hope to serve even more of the downtown community with a bigger space.
The Riffe family is glad to be a part of a wave of new Marion businesses.
"We are excited to see downtown grow. We know that others are also growing out of their space or are new to the downtown as well! We are excited to see the growth and be a part of it," Jamie says.
For more information, visit www.theremnantdowntown.com or follow them on Facebook.com/theremnantdowntown.